Redeemer's University (RUN) admission form 2023 is out and available for sale. Redeemer's University Post UTME form for the 2023/2024 Academic Session is out and can be accessed through the Redeemer's University Post UTME registration portal.
Redeemer's University Nigeria Post UTME Form 2023/2024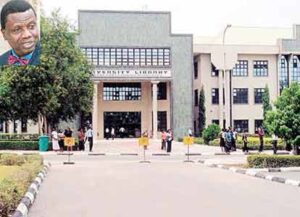 Redeemer's University Undergraduate Courses
RUN offers a diverse portfolio of undergraduate programs, designed to cater to a broad spectrum of interests and career aspirations. The available courses span the humanities, social sciences, business and finance, natural sciences, and more. Here is the full list of available courses for the 2023/2024 academic session:
Accounting
Actuarial Science
Banking and Finance
Biochemistry
Business Administration
Communication and Media Studies
Computer Science
Economics
English & Professional Communication
FRENCH
History & International Studies
Industrial Chemistry
Industrial Mathematics
Insurance
LAW
Management
Marketing
Mass Communication
Microbiology
NURSING
Performing Arts (Theatre Arts/Film Studies)
Physics with Electronics
Political Science
Psychology
Social Work
Sociology
Statistics
Tourism Studies
Transport Management
How to Apply for Redeemer's University Post UTME Form
Applying to Redeemer's University is as simple as it gets. Prospective students can now make payments with their MasterCard, VisaCard, and VerveCard issued by any bank on RUN's admission portal.
To apply, log on to http://adms.run.edu.ng/ to create a profile. Then, proceed to make payment with your ATM card or visit any of the E-Tranzact partner banks to pay the sum of Seven Thousand, Five Hundred Naira (N7,500.00) for the Redeemer's University Post UTME using the eTransact platform.
READ ALSO: RSUST POST-UTME SCREENING
Step-by-Step Application Procedure
For a smooth application process, follow these simple steps:
Create a profile – supply your JAMB number, a password, and other personal details as requested on the Create profile page.
Click the Create Profile button, on the create profile page, after all the inputs are supplied.
If the profile is successfully created, proceed to log in.
On successful log-in, click 'create-post-utme app' to create and submit your application.
If payment is requested, first proceed to pay with MasterCard, Verve, or Visa. On successful payment, repeat step 4.
You may edit successfully submitted applications by clicking 'manage applications' after you have logged in.
Scholarship Opportunities
To find out more about scholarship opportunities, please contact the Directorate Of Students Services And Development. You may reach out to Mr. Ademola Ipenko at +234 813 085 9535 or via email at ipenkoa@run.edu.ng, or Mr. Obichima Okeke at +234 706 243 0009 or okekeo@run.edu.ng.
If you experience technical difficulties during the application process, send an email to: ict@run.edu.ng for support.
With the doors of admission now open for the 2023/2024 academic session, Redeemer's University continues its commitment to providing high-quality education, equipping students with the necessary skills and knowledge to excel in their chosen career paths.
I hope you find this article helpful.