Requirements To Study Nursing Science In UDUSOK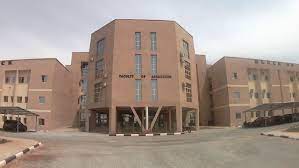 Applications are invited from suitably qualified candidates for admission into the Usmanu Danfodiyo University Sokoto (UDUSOK) Centre for Open and Distance Education (CODE) B.Sc. Nursing Programme during the 2023/2024 academic session.
The CODE is a university organ in charge of offering access to high-quality higher education at a low cost and with great flexibility via ODL. The Centre's teaching approach is an e-learning platform, with little physical interaction between learners and facilitators. It provides undergraduate, graduate, and professional certificate programs. A degree obtained through the Centre is academically equivalent to one obtained on the main campus of the University. Online programs are available to give beneficiaries the freedom to meet their other life obligations while pursuing a degree or certificate of their choice.
The BNSc part-time program is designed to be completed in a minimum of eight (8) semesters and a maximum of 12 semesters. The candidates begin from the 200 level and spend.
UDUSOK CODE B.Sc. Nursing Programme Admission Requirements
To be admitted into the BNSc Degree program, candidates must possess the following requirements:
Registered Nursing Certificate and/or Registered Midwifery Certificate with a valid practicing license by the Nursing and Midwifery Council of Nigeria.
A minimum of five (5) credits at ordinary WASC, G.C.E, SSCE, or NECO in English Language, Mathematics, Physics, Chemistry, and Biology in not more than two sittings.
The post-basic nursing diploma may be an added advantage.
Any other relevant qualification is acceptable to the University.
The department may organize a screening test for prospective applicants.
UDUSOK CODE B.Sc. Nursing Programme Admission Tuition
Tuition — N150,000
Acceptance Fees — N10,000
Examination Fees —  N10,000
Miscellaneous —  N10,000
Verification  — N10,000
How to Apply for UDUSOK CODE B.Sc. Nursing Programme Admission Form
Create an account on our application portal

: All applications for our programs are online. As such, you are expected to create an account on our portal and indicate the program you are interested in. See the list of available programs.

Complete your application form appropriately

: Take your time to fill and complete the application form by logging in with the account you created. Ensure that you supply correct and accurate information during the application; failure to do so will affect your application. As the case may be, follow the instruction on uploading supporting documents carefully.

Pay the appropriate application fee

: Unless otherwise stated, for most programs, application fees are to be paid in designated banks (First Bank, Skye Bank, and UBA) on the eTranzact network. Alternatively, you may also use your Interswitch-enabled Debit or Credit Card to make payments directly on our Portal. Please, note that application fees are subject to review as the occasion demands. Check application fees here.

Submit And Wait for Approval:

 This is the last step of the application process. After Submission, your application will be reviewed, and you will be contacted in due time.
I hope you find this article helpful.