DEADLINE
20 September 2023
PROVIDER
Royal Melbourne Institute Of Technology University
SUBJECTS
Subjects offered by the University
FUNDING TYPE
Fully Funded Scholarships
Fully Funded RMIT University Scholarship In Australia 2024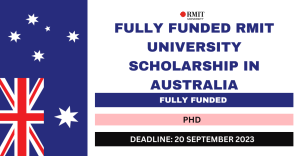 The Fully Funded RMIT University Scholarship in Australia is open to all internationals who want to pursue a doctoral degree. It provides an excellent opportunity for students to pursue their doctoral studies in Australia. With a prestigious global ranking and a strong reputation for academic excellence, RMIT University offers a supportive and innovative research environment for scholars from around the world.
Scholarship Eligibility
The eligibility criteria for the Fully Funded RMIT University Scholarship in Australia are stated below:
1. A Master by Research
2. A Master by Coursework with a significant research component graded as high distinction, or equivalent
3. An Honours degree achieving first-class Honours
4. A 4-year bachelor's degree achieving a GPA of 4 or equivalent (80% or above).
If you do not hold one of the above qualifications, you will only be considered for scholarship if you have previous publications or significant research experience. All other applicants will be considered ineligible.
In addition to the above, to be eligible for this scholarship you must:
1. Be an Australian Citizen, New Zealand Citizen, or Permanent Resident of Australia, or an international candidate who is commencing in an RMIT PhD program from 1 January 2024
2. Have applied for a full-time PhD program at RMIT.
Part-time VCPS may be approved for candidates with exceptional circumstances (e.g. for medical reasons or due to significant care commitments). Part-time scholarships are not tax-exempt. Please refer to the Scholarship Terms and Conditions for further details.
READ ALSO: SKYLINE UNIVERSITY NIGERIA POST-UTME SCREENING
Scholarship Benefits
The benefits of the Fully Funded RMIT University Scholarship in Australia are:
1. Full tuition fee.
2. Research support allowance.
3. Stipend of $46,428 per annum pro rata (full-time study) which represents a generous RMIT top-up of approximately $15,000 above the RTP rate
4. Relocation allowance.
5. Health insurance for international students.
6. Paid sick
7. Parenting and maternity leave.
Others
You will be considered ineligible for the scholarship if:
1. You have already commenced your Ph.D. program at RMIT
2. You already hold a research doctorate or an equivalent research qualification
3. You are currently receiving another equivalent award, scholarship, or research-related salary providing a benefit greater than 75% of the 2022 RTP base rate to undertake the research degree
4. You have not met the English requirements by the published scholarship deadline (international only).
I hope you find this article helpful.