The Fully Funded Rutgers University Fellowship in the USA has opened applications for the Presidential Postdoctoral Fellows Program in the United States of America for the 2024-2025 session. The Rutgers University Presidential Postdoctoral Fellows Program welcomes all international students from around the world to conduct research in the USA. The program offers a high annual salary along with a research grant.
Fully Funded Rutgers University Fellowship In USA 2024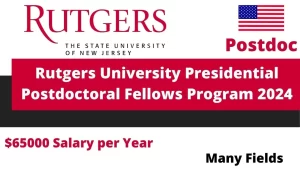 DEADLINE
16 October 2023
STUDY IN
United States Of America
PROVIDER
Rutgers University
STUDY LEVEL
Fellowship, PhD, Postgraduate
SUBJECTS
Subjects offered by the university
FUNDING TYPE
Fully Funded Scholarships
Scholarship Eligibility
All students across the world, are eligible for the Fully Funded Rutgers University Fellowship in USA to pursue the Ph.D. degree.
Scholarship Benefits
The benefits of the Fully Funded Rutgers University Fellowship in the USA are:
1. Fellows will receive a $65,000 annual salary, $10,000 in discretionary research funds per year, an office, computer, health benefits, and a dedicated mentor.
2. Fellows will typically teach one class or equivalent during the academic year.
3. Fellows will also have the opportunity to participate in meetings and workshops structured for the purposes of networking, social interaction, and supporting professional development.
READ ALSO: SINGAPORE INTERNATIONAL GRADUATE AWARD (SINGA)
Others
Required Application Materials:
Cover letter describing the applicant's education, research areas, and fields of interest.
Rutgers University values contributions to diversity, equity, and inclusion (diversity.rutgers.edu). We encourage applicants to comment (in a separate statement or in the cover letter) about how their research, teaching, and/or service in the past, present, and/or future could contribute to these values
Curriculum vitae, including publications, awards, honors, current and pending funding (if any)
Three letters of reference, one of which should be from the applicant's dissertation or thesis advisor
A Proposed Research Plan that describes what the applicant aims to achieve during the term of his /her/their appointment. Applicants should use this Plan to make any requests for specific placements at Rutgers and to explain why such a placement would be beneficial. Plans may be no longer than 3 pages, single-spaced, with one-inch margins, in 11 pt font.
A writing sample of no more than 25 pages or a sample of prior research.
I hope you find this article helpful.