The Samford University Crosland Funded Scholarship in the USA is open to all internationals. Samford University aims to acknowledge outstanding accomplishments in academics, service, and community involvement. Awardees exemplify the core values of Samford and make significant contributions to the university community. The Crosland scholarship is offered for undergraduate or bachelor's degrees in various fields and is awarded to international students with high academic accomplishment. Recipients typically demonstrate exceptional intellectual curiosity, a strong work ethic, and a study commitment.
This scholarship recognizes and honors exceptional academic achievement, character, and community engagement. Named after Samford University's inaugural Rhodes Scholar in 1910, students eligible for this scholarship must demonstrate extraordinary academic excellence. Crosland scholarship recipients belong to a select cohort of students who have been selected based on their academic accomplishments, their personal qualities, dedication to others, and their commitment to societal welfare. The selection process for this scholarship offer is highly competitive and meticulous. It identifies students who not only excel academically but also embody the core values of Samford University. It aims to empower its recipients to continue making a difference in their communities and beyond, serving as leaders who contribute to the betterment of society.
Samford University is a renowned institution of higher education in Alabama, USA. Samford University has stood as a cornerstone of education for decades, characterized by its unwavering commitment. Since its establishment in 1841, Samford has taught students to harness their abilities and create a meaningful global influence. The university's faculty members are not only experts in their respective fields but are also dedicated mentors. The campus boasts modern facilities, state-of-the-art laboratories, libraries, and resources that support academic, extracurricular, and research activities. Samford University graduates often excel in various fields, making significant contributions to their professions and communities.
Samford University Crosland Funded Scholarship In USA 2024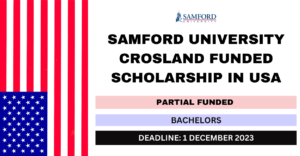 DEADLINE
1 December 2023
STUDY IN
United States Of America
PROVIDER
Samford University
STUDY LEVEL
Bachelor, Undergraduate
SUBJECTS
Subjects offered by the university
FUNDING TYPE
Partial Scholarships
Scholarship Eligibility
The eligibility criteria for the Samford University Crosland Funded Scholarship in USA are stated below:
1. To be eligible for the Crosland scholarship, international students must have an official acceptance letter from Samford University for a bachelor's degree program.
2. Both local and international students can apply for the Crosland scholarship.
3. Applicants must meet and exceed the University's admission criteria and should demonstrate exceptional academic achievement.
4. The scholarship is awarded based on merit, focusing on academic excellence and potential contributions to the Samford University community.
5. English language proficiency exams are compulsory for non-English high school course graduates
6. For incoming freshmen, this typically involves having an ACT score of 26 or higher (or an SAT score of 1240 or higher) and a minimum GPA of 3.5.
7. Freshman applicants who choose not to submit test scores will still be considered for the Crosland scholarship. Their application will involve evaluating a recalculated, weighted GPA on a 4.0 scale.
8. Transfer applicants aiming for the scholarship should generally have a college GPA of at least 3.5 and must have completed a minimum of 24 credits of undergraduate coursework.
9. Recipients of the Crosland scholarship are expected to sustain a minimum GPA of 3.0 for all coursework undertaken at Samford University and uphold the institution's established code of values.
Scholarship Benefits
The benefits of the Samford University Crosland Funded Scholarship in the USA are:
1. This international scholarship in the USA provides partial funding with a maximum value of $17,500.
2. Being awarded the Crosland Scholarship acknowledges and celebrates recipients' exceptional academic achievements.
3. Samford University Scholarship recipients often gain access to exclusive opportunities, including special events, workshops, and networking activities.
4. Provides recipients with a platform to connect with fellow scholars, mentors, and alumni.
5. Crosland scholarship encourages recipients to engage actively in their academic pursuits, creating an environment where they are inspired to excel, explore diverse disciplines, and participate in meaningful research.
6. Cultivates a positive atmosphere within the Samford University community.
7. Inspires participation in community service initiatives.
8. Open doors to graduate school and career advancement.
9. The Crosland scholarship offers a unique opportunity to study in the USA.
Others
Documents Required
1. Completed International Undergraduate Application
2. Application fee ($40)
3. Passport/visa (official government documentation)
4. Bank Statement
5. Transcript
6. Personal Essay
7. Letter of Recommendation
8. SAT/ACT scores
9. TOEFL/TOEFL iBT scores
10. IELTS: Score of 6.5 or higher
11. Duolingo: Score of 120 or higher
I hope you find this article helpful.