Are you an undergraduate in any Nigerian Federal or State university? There is good news for you. Application for Shell 2020 scholarship award has begun. You can now go ahead to apply for this year Shell Scholarship online. The Shell scholarship aims to promote academic excellence and improve the skills of young Nigerians.
The Shell Petroleum Development Company (SPDC) of Nigeria Limited (Operator of NNPC/SHELL/TEPN/AGIP Joint Venture) Scholarship Scheme offers second year students in all Nigerian Universities the opportunity to study with an annual grant from the SPDC JV for the full duration of their course.
The Two Categories of Shell Scholarship
i) The National Merit Award (NM): Is open to all Nigerians.
ii) The Areas of Operation Merit Award (OM): is for Nigerians who are indigenes of SPDC's operational areas in Abia, Bayelsa, Delta, Imo and Rivers States.
Shell Undergraduate Scholarship Eligibility.
Be citizens of the Federal Republic of Nigeria
Be registered Full Time undergraduates in an accredited and approved University in Nigeria
Be in 200 level with (as at December, 2019).
How to Apply for Shell Undergraduate Scholarship 2020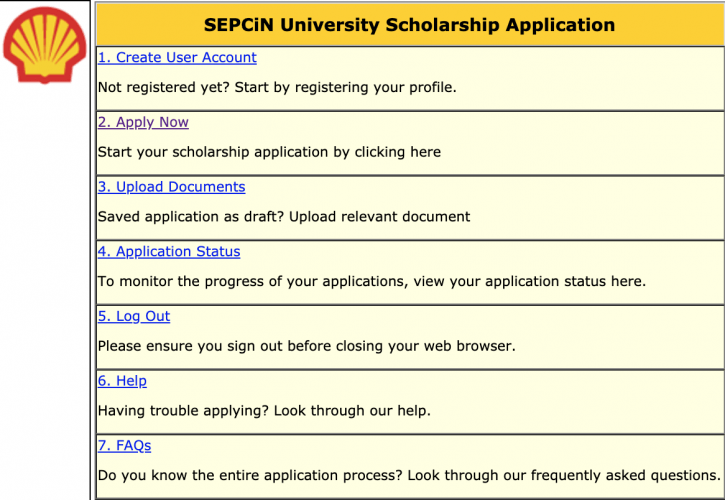 All applicants should have their personal valid email account (for consistent communication)
Applicants for Operational Area Awards are required to provide scanned copies of letters of identification, which must be duly stamped and signed by:

The Paramount Ruler of the Community; and
The Chairman of the Community Development (CDC) or
The Chairman of the Executive Council (CEC) or

The letters should be addressed to: "The Manager, Social Performance, The Shell Petroleum Development Company of Nigeria Limited, Port Harcourt, Rivers State".
NOTICE:
Each document must not exceed 200KB and the image format must be JPEG.

Shell does not demand payment from applicants. The application is FREE of charge
SPDC JV does not assign "˜Representatives' / "˜Agents' to assist applicants' to process applications
Only candidates shortlisted for selection tests will be contacted
Beware of the fraud websites when applying for scholarships online. Only use Shell Nigeria website for the application.
Shell Scholarship Deadline: 28th February, 2020.