The Fully Funded Simon Fraser University Scholarships in Canada is open now. International students are encouraged to apply for an Undergraduate and Master's degree in the 2024-2025 academic year.
Simon Fraser University (SFU) is a renowned Canadian institution committed to academic excellence and innovation. Located in British Columbia, SFU offers various undergraduate and graduate programs across various disciplines, including arts, sciences, business, engineering, and health sciences. Recognizing the importance of supporting students in achieving their educational goals, SFU offers a range of scholarships to deserving students.
The Simon Fraser University Scholarships provide financial assistance to both domestic and international students who demonstrate outstanding academic achievements, leadership potential, and a commitment to community service. These scholarships aim to alleviate the financial burden associated with higher education and foster an inclusive and diverse learning environment.
Fully Funded Simon Fraser University Scholarships In Canada 2024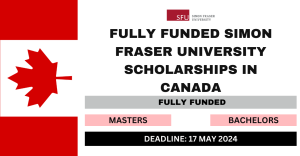 DEADLINE
17 May 2024
PROVIDER
Simon Fraser University
STUDY LEVEL
Bachelor, Masters, Undergraduate, Postgraduate
SUBJECTS
Subjects offered by the university
FUNDING TYPE
Fully Funded Scholarships
Scholarship Eligibility
The eligibility criteria for the Fully Funded Simon Fraser University Scholarships in Canada are stated below:
1. Have completed at least 12 units of standard graded courses at SFU.
2. Be enrolled in a minimum of 12 units of standard graded courses at SFU in the term of application.
3. Have a minimum CGPA of 3.50 at SFU
Scholarship Benefits
The benefits of the Fully Funded Simon Fraser University Scholarships in Canada are:
1. Diverse project involvement: Scholarship recipients at SFU are offered the opportunity to engage in a wide range of projects, enabling them to gain valuable experience and enhance their skill set.
2. Strong faculty connections: By participating in these projects, students can establish effective communication channels and collaborate with esteemed faculty members at SFU, fostering the development of their intellectual capabilities.
3. Research prospects: Scholarship recipients not only have the privilege to conduct research but also benefit from SFU's academic resources and support, opening doors to valuable research opportunities.
4. Financial assistance: Apart from academic and research prospects, scholarships provide financial support for students, alleviating the burden of tuition fees and other educational expenses. Moreover, the scholarship not only offers research opportunities but also provides a means of earning for students.
Others
How to Apply?
The Summer 2023 application period will be open on 1 May 2023.
1. Check the application period and final deadline at Application Deadlines.
2. Review the Summer 2023 Scholarship and Awards List
 to determine which scholarships/awards you want to apply for.
3. Apply online by logging in to the Student Information System (go.sfu.ca).
4. Click on "Student Center".
5. Go to Financial Aid and Awards (under Finances).
6. Click on "Apply for Scholarships/Awards".
7. List the scholarships/awards you want to apply for on your online application.
8. Complete and submit your application.
9. Supporting documentation (if any) is to be emailed to faawards@sfu.ca by the application deadline.
10. Set up Direct Deposit (administered through the Student Accounts Office) as soon as possible to receive any refunds you may be eligible to receive.
I hope you find this article helpful.