Attending trade shows can offer numerous promotional benefits to your business. These events provide an opportunity to share your products or services with interested parties and build connections with your peers and potential customers. Trade shows also require you to perform significant planning and preparation to ensure that the event runs smoothly. In this article, we discuss the benefits of trade shows and offer you advice on how to prepare for these events.
What is a trade show?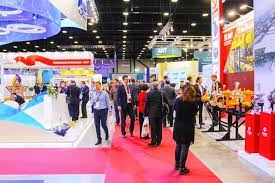 A trade show is an event where businesses present and demonstrate their goods and services. These events often focus on specific industries, such as electronics, toys, automobiles or food and beverages. Trade shows typically take place over at least a few days, and attendees can include industry members and the public. Businesses often use these events as part of their marketing or networking strategies. They can set up booths or exhibit spaces to display their offerings or workshops that allow attendees to interact with their products or services.
Benefits of attending a trade show
Trade shows serve as an effective method for businesses to promote and market their products and services. Some of the benefits of attending these events include:
Learn about your industry: When attending a trade show, you or your representatives surround yourselves with industry peers and competitors. These events can teach you about the latest trends or innovations in your industry, which you may implement into your business. You can also learn about your competitors' offerings and marketing strategies, then compare them to yours and assess what works and what does not.

Boost brand visibility: Appearing at large or well-known trade shows can increase awareness of your business and its brand. These events can help you establish credibility in the industry and introduce yourself to a wide variety of consumers and potential customers and establish credibility. Besides demonstrating your offerings, you can showcase your business's brand and values to develop a positive and attractive reputation.

Increase sales and leads: Trade shows allow you to share and demonstrate your products and services to consumers. Because these events often cater to a specific industry, attendees typically already have an interest in your type of offerings. Getting to see your offerings in person or interacting with them may make these consumers more likely to pursue them. As a result, businesses can gain deals with retailers and other interested parties through trade shows.

Enhance customer loyalty: Attendees at trade show events may include your existing customers. Having in-person interactions with these customers can build relationships with them and help them understand the people behind your business. Developing stronger, more personal connections through these interactions can help make your customers want to continue supporting you.

Generate word of mouth: Even if attendees do not purchase your offerings or set up deals, they may gain enough interest to promote your business to their network. For example, having an exciting or interesting display and providing positive experiences can help make you memorable. When these attendees share information about your business, it can serve as a free marketing tool for you and help raise awareness.
How to prepare for a trade show
The preparation for attending a trade show can start up to a year in advance when choosing and registering for events. Here are some of the steps you can take to help you and your team get ready:
1. Develop a budget
If you want to attend trade shows, one of your first steps must include developing a budget. You may establish it months or even a year in advance before signing up for shows. Your budget can help you understand what events you can afford to attend and set plans accordingly. It must take numerous factors into account, from buying event space to paying for travel and accommodations. You also need to focus a portion of your budget on marketing, determining how much you can spend on marketing materials and strategies used to garner attention.
2. Determine your goals
Establishing goals during the trade show preparation process can help your team take a more focused approach. Identify what you want to gain from this experience. These goals may focus on factors such as lead generation, brand awareness or sales. A good technique for goal-setting is to develop specific and measurable objectives for your team to achieve. For example, you may want to identify a goal to gather at least 250 leads during the event or set up 50 meetings with interested parties.
3. Create your marketing strategy
While developing goals, you also need to determine the marketing strategy for the trade show to ensure alignment. Your strategy should help you attract and connect with attendees and support achieving your business goals. First, you must identify the products or services you hope to highlight during the event. These may represent existing offerings or something you would like to debut. Your marketing should also promote your brand, the value you can provide and how you differ from competitors.
Collaborate with your marketing team to develop effective strategies and identify the materials you need to create. These materials may include brochures, press releases and handouts that you provide both before and during the event. If you have attended trade shows before, think about the businesses that attracted your attention. You can use their marketing tactics as inspiration. For example, a booth that offered an immersive virtual reality experience may have made a memorable impression or one that hosted a giveaway. When developing your marketing strategy, you also need to be mindful of your available budget.
4. Decide who to bring
Bringing the right team of people to a trade show can help the event run smoothly. These individuals will serve as the face of your business, so you want to make sure they reflect well on your business and provide positive experiences. Depending on your budget, you may choose to bring internal employees or contract external help. For example, some businesses hire PR firms to help with their promotional activities or event staffing agencies to supply experienced trade show professionals.
You can identify the type of staff you need through the goals you set. For example, if you want to generate more leads, you need to bring experienced and inspiring sales professionals. These individuals know how to build a rapport with people and have the motivation to drive sales. Or if your presentation includes technology, you need to bring along staff members with technical skills to ensure everything works properly.
5. Design your presentation
Designing your presentation is an essential component of preparing for trade shows. When you sign up to attend a trade show, you want to choose an ideal location. Look for areas with high foot traffic, such as near entrances or food and drink stations. When possible, research the site's location and other attendees to assess who you will be nearby. You can then try to develop plans to differentiate yourself and grab passing attendees' attention.
When designing your booth, incorporate visual brand elements, such as colors or logos, to increase awareness and recognition. You also want to ensure that your booth or display adequately communicates your offerings to people. Clear messaging helps people understand your business immediately and may convince them to stop and talk to you. Your marketing strategies can also affect booth design, as you may need to incorporate interactive experiences, demonstrations or visual presentations such as videos. Depending on your budget, a design professional can help you develop an eye-catching and professional display.
6. Prepare your staff members
Once you have identified your trade show team, you need to work with them to develop an event plan and set expectations. Set up meetings in the weeks and days leading up to the event to keep everyone on track. Through these conversations, you can establish the goals you set and the tactics and messaging they can use to achieve them. Ensure that everyone attending the event also has a specific role. These roles can help them understand the tasks they must complete and maintain focus during the event.
You must also establish behavioral guidelines, such as how you want staff members to communicate with event attendees or introduce themselves. For example, you may emphasize the need to stand up straight, use eye contact and communicate in a friendly tone. Your staff should remain attentive and proactive in reaching new customers, rather than standing by idly or looking at distractions. You may also set clothing guidelines, whether you provide a uniform for everyone to wear or want them to wear particular clothing items or colors.
7. Utilize social media
As part of your marketing strategy, you can use social media to create buzz around your attendance at a trade show. Before the event, you can create posts announcing your attendance to your existing customers and followers. As the event gets closer, you may provide incentives to have people stop by your booth, such as a giveaway or a product unveiling. Provide information about your location, such as your booth number or a map to ensure that attendees can find you. Make sure to utilize any event hashtags to expand your audience and reach other interested parties.
8. Double-check everything
Throughout the preparation process, make sure to double-check every logistical component. If you order anything for your booth or presentation, track those items and ensure they get delivered at the right time to the correct location. When developing marketing and promotional materials, always proofread them for errors to guarantee that you project a professional image. You also want to make sure you print out sufficient materials or order enough supplies to hand out to interested attendees.
You can develop a checklist and check off items upon their completion to help stay organized. This checklist can cover all aspects of planning, from the registration process to travel schedules and accommodations to day-of preparations. Double-checking everything can help you ensure your day runs smoothly. If you do run into challenges, you will know about them in advance and can identify solutions rather than rushing at the last minute.
I hope you find this article helpful.