The cost of education has never been easy and as days advance, it's becoming more expensive to go through college due to the ever-increasing cost. Thankfully, scholarships help ease off college fees burden and some students have joined college and graduated through scholarships.
 Students' Personal Statements for Scholarship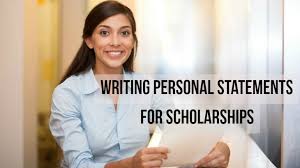 In the process of applying for a scholarship, the personal statement might be the stumbling block between getting or losing a scholarship opportunity. Students should pay attention to writing a good personal statement by understanding its features. Paying attention to assignments can help improve writing skills.
What Does a Personal Statement for Scholarship Contains?
Just like any other written assignment in school, a student's statement for scholarship must have a specific objective. The goal of a scholarship is to help raise student's academic skills and achieve higher academic grounds. The writing abilities of a student should be tested and evaluated by the particular committee of a scholarship organization.
If the personal statement is not well-written, students might not meet the demands of the scholarship organization and it might be a lost opportunity for them.
Not every personal statement has a goal but those who do are the ones who stand out and get to the top. A scholarship committee can check students' statements for scholarships to see if they meet the requirements of the organization.
Personal statement for scholarship – overview
Students write personal statements when sending applications to join college or when they are soliciting scholarships. It helps the board to understand why the student needs help or a chance to join college.
A student describes their strengths, accomplishments, special abilities, and generally their personality. When applying for a scholarship, the statement provides a way for reviewers to understand what the money will be used for and the possible benefits to the student. Thousands of students apply for scholarships each year and what determines success is the quality of personal statement. Good quality involves good writing skills and understanding the great features of a good statement.
Paying attention to the details and features of any college assignment can help improve skills for writing high-quality papers. Students who are good at writing improve their academic performance and increase opportunities to get a scholarship. However, you should not miss a chance to get a scholarship to university because you lack good writing skills. There is online help for personal statement writing service by Writix any time you need it. They want you to concentrate more on your studies as they take care of your assignments.
How to Write a Personal Statement for a Scholarship
Don't jump into writing a personal statement without first understanding its features. Â Just like other writing assignments, here are some rules that students must follow to write a great personal statement.
Write your statement in the correct language of the organization or organisation.
Also, always remember that most scholarship organizations use English as their language so avoid trying to write in any other language that the scholarship organization might be using.
A personal statement should be on point and it should have relevant content.
However, keep it simple, clear, concise and to the point.
Features of a personal statement 
1. Length 
Scholarships reviewing committees receive thousands of applications yet they have limited time to review and shortlist qualifying students. If your statement is too long, they might keep it aside and read the shorter ones.
Beyond writing a good piece of content, you also want someone to read it to increase your chances of qualifying. The best statement should not go below 200 words or above 500 words.
2. Points to include
The reviewing committee will be looking at your strengths in terms of education, sports, community involvement, innovation, and good character. They will also be looking at your level of financial need. Before you start writing, highlight the most important points to include. Think about good points like your future dreams, career aspirations, and the benefits you are getting from your course. Think also in the line of your strengths in terms of personal traits that will make you stand out above other applicants.
Other points will be your most distinguishing qualities, attributes, and skills. What you have accomplished outside the curriculum is important and some of the challenges you have gone through and how you overcame them.
Your best sport, involvement with community work, and other extracurricular activities. Demonstrate why you need the scholarship and how it will help you achieve both your education and career goals. Generally, you should present yourself as a potential student in need of help to harness that potential.
It's easy to get a scholarship if you pay attention to all the key features of a good personal statement. If you haven't yet mastered good writing skills, you can start practising and improving one step at a time. Your statement for a scholarship might not wait until you practice and that's why Assignment Help in the United States by AssignmentBro is ready to help you write high-quality papers. Visit them every time you need help with your college work because their qualified writers understand the urgency of your work and the importance of quality.
3. Introduction
It should take one paragraph only and be very catchy. It states who you are, your home district/state/country, family background, and any other special need or circumstance in you/your family that warrants financial help. As they say, the first impression is the last. Although academicians won't judge you entirely basis the introduction you may say that half the battle is already won if your introduction is good. It sets the scene perfectly and the reviewers would be impulsed to read it thoroughly till the end.
4. The body
The body is the weight of your entire statement and it gives supporting information on why you should be considered for a scholarship. Explain your former and current achievements, your course (your major included and why you chose it), and why you chose to join the college you are in or are about to join.
Explain your good quality, experience (work included), leadership, challenges you have overcome, and community volunteer ship. Do not overdo it or exaggerate unnecessarily. In another paragraph, explain your goals in education, life, and career and how this scholarship will help you achieve them.
Your education goals should be in terms of your highest expected degree, its importance in today's world, and how education will help you achieve your future goals. For example, if in the future you want to become a politician, explain how achieving a higher degree like a master's or PhD will help you become a productive politician and so on. Every piece of the sentence should be convincing enough for the reviewing committee to help you get shortlisted.
5. The conclusion 
The concluding paragraph should recap the details in the other parts of your content. It should be highly impressive and persuasive. To write a good personal statement, generate the best ideas, write well-flowing grammar, and edit thoroughly.
The personal statement carries a big weight in the process of reviewing and rewarding scholarships to qualifying students. It is the piece of content that a student should dwell on most to ensure the right the best. This piece of writing is different from other writings because it describes the person in terms of their strengths, accomplishments, extracurricular activities, and current and future goals. Understanding its structure and writing quality work should be a primary goal for the student.
I hope you find this article helpful.