Situated along the picturesque Orba-Obollo Afor express road, the State University of Medical and Applied Sciences (SUMAS), Igbo-Eno, emerges as Enugu State's crowning jewel in higher education. Garnering recognition from the National Universities Commission as the 60th state-owned university and ranking as the 219th university in Nigeria, SUMAS sets a new paradigm in specialized educational offerings.
                  SUMAS Enugu's Post UTME Form 2023/2024 Session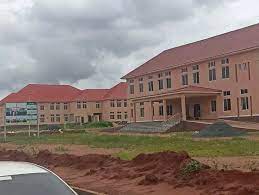 | | |
| --- | --- |
|  Location | Along Orba-Obollo Afor express road, Igbo-Eno, Enugu State. |
| 🎓 University Overview | 60th State-Owned University, 219th in Nigeria. Specializes in Medicine, Sciences, and Engineering. |
| 📝 UTME Requirements | Chose SUMAS as your first choice & scored 160+ in UTME or change your first choice to SUMAS and score 160+. |
| 📘 Programs Offered | Medicine, Allied Health Sciences, Pharmacy, Engineering, and Natural Sciences, among others. |
| 💰 Application Fee | N2,000, payable to ZENITH BANK PLC, ACC NO: 1226931156. |
| 🖥️ Application Process | Fill out the form at forms.gle/V3hV9yct5gu551D8A, attach the required documents. |
| ✅ Admission Criteria | 5 Credit-level passes in relevant subjects, 160+ in UTME. |
| 🗓️ Key Dates | Application from July 18, 2023, to August 25, 2023. Lectures start in October 2023. |
Beyond its recognition, SUMAS boasts state-of-the-art facilities conducive to holistic training in disciplines ranging from Medicine and Allied Health Sciences to Engineering and Natural Sciences. The Enugu State-owned specialized university stands tall as a beacon for quality education in Nigeria.
Eligibility for POST UTME Screening
Candidates eager to be part of this esteemed institution should note:
Primary Eligibility: Those who designated SUMAS as their first-choice university and secured a minimum score of 160 in the UTME.
Additional Eligibility: If SUMAS wasn't your first choice but you scored 160 or more in the UTME, you're still in luck! Make SUMAS your primary choice via the JAMB Central Admission Processing System (CAPS) and follow the subsequent application guidelines.
READ ALSO: JABU POST UTME/DE SCREENING FORM 
Available Programmes
Faculty of Medical Sciences
MB BS. Medicine & Surgery
Faculty of Basic Medical Sciences
B.Sc. Human Anatomy
B.Sc. Human Physiology
Faculty of Allied Health Sciences
B.Sc. Nursing
B.Sc. Nutrition and Dietetics
B.Sc. Medical Laboratory Sciences
B.Sc. Radiography
B.Sc. Physiotherapy (DPth)
Faculty of Pharmacy
D.Pharm. Pharmacy
Faculty of Engineering and Built Environment
B.Eng. Chemical Engineering
B.Eng. Biomedical Engineering
B.Eng. Mechanical Engineering
B.Eng. Electrical/Electronic Engineering
B.Eng. Computer Engineering
B.Eng. Civil Engineering
B.Sc. Quantity Surveying
B.Sc. Architecture
Faculty of Natural and Applied Sciences
B.Sc. Genetics and Biotechnology
B.Sc. Biochemistry
B.Sc. Microbiology and Brewing
B.Sc. Pure and Industrial Chemistry
B.Sc. Computer Science Information and Communication Technology
Application Process Made Simple
Step-by-Step Guide:
Pay a screening fee of N2,000 to:

Account Name: SUMAS SCREENING AND APPLICATION
Account Number: 1226931156
Bank: ZENITH BANK PLC

Complete the application form at SUMAS Application Portal.
Attach soft copies of JAMB result and O' Level certificates (ensure they're in PDF format and no larger than 10MB each).
Attach your payment evidence.
Upload a recent passport-sized photograph.
Essential Admission Requirements
Candidates must:
Secure at least 5 credit passes in relevant subjects, including English and Mathematics, in WAEC, NECO, or their equivalent. Candidates should have these qualifications in one sitting for Medical programs and up to two sittings for other disciplines.
Have scored a minimum of 160 in the UTME.
Key Dates to Remember
Application Window: Starts on July 18, 2023, and concludes on August 25, 2023.
Academic Kick-off: The 2023/2024 academic session is scheduled to commence in October 2023.
For more detailed clarifications or bespoke queries, prospective candidates can reach out to the admissions office at admissionofficer@sumas.edu.ng.
In essence, SUMAS Enugu offers not just education, but an experience – one that molds future professionals ready to make their mark. As the application window edges closer, seize this golden opportunity and be a part of the SUMAS legacy. Best of luck to all aspiring candidates.
I hope you find this article helpful.