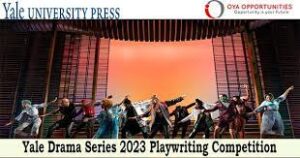 The prestigious Yale Drama Series has announced the call for entries for its 2024 Playwriting Competition. This annual, international competition, funded by the David Charles Horn Foundation, is designed to identify and support emerging playwrights.
A Tradition of Excellence
Winners of the competition are selected by distinguished playwrights. The series' inaugural judge was Edward Albee (2007-2008), followed by luminaries such as Sir David Hare (2009-2010), John Guare (2011-2012), Marsha Norman (2013-2014), Nicholas Wright (2015-2017), Ayad Akhtar (2018-2019), and Paula Vogel (2021-2022). The current judge for the competition is playwright Jeremy O. Harris.
Prize
The successful playwright will be awarded the David Charles Horn Prize of $10,000. In addition to the cash prize, the winning manuscript will be published by Yale University Press, and a celebratory event will be organized in honor of the winning play.
Eligibility Criteria
The competition is open to playwrights worldwide, with the requirement that plays are written in English. Submissions should be original, unpublished full-length plays with a minimum of 65 pages. Translations, musicals, and children's plays are not accepted.
Importantly, the competition aims to support emerging playwrights, and as such, playwrights can only win once. Each playwright may submit one manuscript per year, and only solo-authored plays are eligible.
While professionally produced or published plays are not eligible, those that have had a workshop, reading, or non-professional production, or have been published as an actor's edition, will be considered.
Application Process
Electronic submissions for the 2024 competition must be submitted no earlier than June 1, 2023, and no later than August 15, 2023. The Yale Drama Series Competition encourages electronic submission. Electronic submissions not only ensure immediate confirmation of successful submission but also allow applicants to check the status of their entry.
To apply, applicants should exclude their name and contact information from their manuscript and submission file name. The manuscript must start with a title page featuring the play's title, a 2-3 sentence keynote description of the play, a list of characters, and a list of acts and scenes. The applicant's contact information and a brief biography should be provided where indicated in the electronic submission form.
For applicants unable to submit electronically, hard copies of scripts can be mailed to Yale Drama Series, P.O. Box 209040, New Haven, CT 06520-9040.
In summary, the Yale Drama Series Playwriting Competition represents a fantastic opportunity for aspiring playwrights to get their work recognized and published. For more information, visit the Yale Drama Series website.
I hope you find this article helpful.