TransparencIT Civic Changemakers Fellowship Program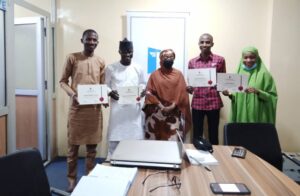 The Transparency Information Technology Initiative (TransparencIT), a civic technology organization, invites community champions in Nigeria to apply for its Civic Changemakers Fellowship Program. Intends for this program to nurture young civil society leaders and their solutions and build up their capacity to effect positive change in the communities they serve.
This program's organizers will select ten persons from the pool of applicants and work with them to scale their solutions. Those solutions will be ones that TransparencIT adjudges to be potentially effective at promoting civic participation and improving governance.
The program will last for three months. Participants will learn via training sessions, group work, and networking. At the end of the program, they should be considerably better at implementing effective solutions to social problems.
About the Fellowship
Every year, TransparencIT selects community champions who have demonstrated significant active participation in their communities and invites them to develop and scale solutions to disrupt civic participation and improve governance and social justice. This three-month program offers changemakers the opportunity to advance their activities and projects through engagement, training, group work, and networking.
The Objective of the Programme
The program's primary goal is to strengthen the civic space and impact communities positively. This is achieved by enhancing the knowledge, skills, values, and motivation of changemakers to foster and implement citizen-driven solutions. The program is designed with a focus on creating a positive impact using the Sustainable Development Goals (SDGs).
Eligibility
Emerging changemakers who meet the following criteria are eligible to apply:
Between the ages of 18 and 35 at the time of application.
Citizens and residents of Nigeria at the time of the program.
Passionate about solving social justice and governance challenges in their communities.
Available to attend both online and on-site activities of the program.
Proficient in speaking, reading, writing, and understanding the English language.
The program encourages women and people living with disabilities to apply.
Benefits
Persons who take part in this program will benefit from it in the following ways:
Interact with international experts on equity and social justice

Gain access to training and mentorship opportunities

Get support from 

TransparencIT

 and its partners to build and scale solutions to governance challenges and civic participation hurdles

Learn to leverage technology to drive greater advocacy in their communities
Eligibility
Anyone who wants to apply for this opportunity must meet these conditions:
Must be between 18 and 35 years old at the time they apply for the program

Should be citizens of Nigeria and reside in the country at the time the program takes place
Must be able to speak, read, write, and understand the English language

Should be available to attend the program's online and in-person activities
Note: The organizers encourage women living with disability to apply.
How 
The
 Program Will Unfold
Applications will remain open until June 30. TransparencIT will inform the applicants they have selected in July and August.
Orientation and training will begin in September, while the civic leadership retreat will hold in December.
If you would like to apply for the TransparencIT Civic Changemakers Fellowship Program, click.