Applications are invited from suitably qualified candidates for admission into the University of Agriculture and Environmental Sciences Umuagwo (UAES), Degree programs for the 2023/2024 academic session. To be eligible for admission, you need to meet certain requirements which are stated below.
Only students who choose the University of Agriculture and Environmental Sciences as their first choice in the 2023 Unified Tertiary Matriculation Examination (UTME) and score the required UAES cut-off mark are eligible to apply for admission. The minimum cut-off mark for the Umuagwo University of Agriculture and Environmental Sciences is 160.
This article's comprehensive guide contains all the information needed to navigate the admission process smoothly.
                   UAES Post UTME Screening Form 2023/2024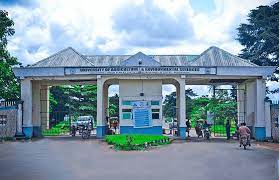 | | |
| --- | --- |
| 🏛 University | University of Agriculture and Environmental Sciences |
| 📚 Degree Programmes | Agriculture, Science, Environmental, Arts, Engineering |
| 📅 Session | 2023/2024 academic session |
| 🎓 Eligibility | Minimum 140 in UTME, 5 O' level credits |
| 💻 Application Portal | uaes. education |
| 💼 Faculties | 5 (including Agriculture, Science, Arts, and Engineering) |
| 🔎 Change of Institution | Via JAMB website |
| 📞 Contact | Email & Phone provided for inquiries |
Courses Offered at UAES
UAES offers an extensive range of courses across five faculties, providing opportunities for students to excel in various fields.
1. FACULTY OF AGRICULTURE
B. Agric. in

Agricultural Extension
Agricultural Economics
Animal Production
Crop Production
Soil Science

B.Aqua./Fisheries
B.Sc. in

Food Science and Technology
2. FACULTY OF SCIENCE AND COMPUTING (FSC)
B.Sc. in

Biology
Microbiology
Biotechnology
Biochemistry
Mathematics
Computer Science
Information Technology
Physics
Chemistry
3. FACULTY OF ENVIRONMENTAL SCIENCES (FES)
B.Sc. in

Estate Management and Valuation
Environmental Management & Toxicology
Horticulture & Landscape Architecture
4. FACULTY OF ARTS, SOCIAL AND MANAGEMENT SCIENCES (FASM)
B.Sc. in

Accounting
Taxation
Peace Studies and Conflict Resolution
Criminology and Security Studies
Psychology
Business Administration
Marketing
Entrepreneurship
Cooperative and Rural Development
5. FACULTY OF ENGINEERING
B.Eng. in

Civil Engineering
Water & Irrigation Engineering
Mechanical Engineering
Electrical & Electronics Engineering
Chemical and Petroleum Engineering
Post UTME Eligibility Criteria
Who is Eligible?
Candidates who sat for the UTME in the 2023/2024 session and scored a minimum of 140.
Candidates who did not choose UAES as their first-choice University but meet the required cut-off mark. These candidates must visit the JAMB website for a change of institution.
All candidates must have five (5) O' level credits in relevant subjects at not more than two (2) sittings.
Candidates waiting for O' level results may apply, but they will not be considered for admission until their results are available.
How to Apply for the Post UTME Form
Follow these step-by-step instructions to apply for the UAES Post UTME Form:
Payment: Login to Remita and click on "search for biller" (University of Agriculture and Environmental Science). Click on POST UTME (Name of service/purpose) and proceed with your personal details to pay for the application form.
Form Submission: After successful payment, log in to the University website and click here. Fill out the form completely and correctly and click on the submit button.
Further Instructions: You will be contacted by the Admission department for further directives.
For inquiries and further information, please reach out through the following channels:
Email: registrar@uaes.education, admission@uaes.education, ict@uaes.education
Text: 08188866859, 08068020702, 08085586781, 08038367600
In summary, the University of Agriculture and Environmental Sciences (UAES) stands as a beacon of excellence, offering diverse courses that cater to the academic needs and career aspirations of its students. This academic session's Post UTME admission process is a golden opportunity to be part of this vibrant academic community.
Take your time to understand the requirements, follow the application process diligently, and embark on an enriching academic journey that shapes your future in the fields of Agriculture, Science, Environmental Sciences, Arts, Social and Management Sciences, or Engineering.
I hope you find this article helpful as well as interesting.