Umaru Musa Yar'adua University (UMYU) extends a warm greeting to all newly admitted UTME and Direct Entry candidates for the 2023/2024 academic session. This announcement serves to guide candidates through the process of admission letter printing and acceptance fee payment, facilitating a seamless commencement of their academic journey at UMYU, Katsina.
UMYU Acceptance Fee, Admission Letter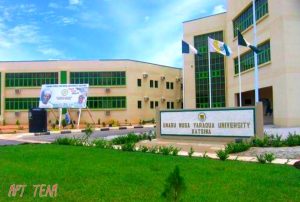 | | |
| --- | --- |
| 📚 University | Umaru Musa Yar'adua University (UMYU), Kastina |
| 🎉 Announcement | Acceptance fee payment & admission letter printing |
| 📌 For | Newly admitted UTME & Direct Entry candidates |
| 💰 Acceptance Fee | N5,000 for indigenes; N10,000 for Non-Indigenes (+ charges) |
| 🖨️ Admission Letter | Available for print on UMYU admission portal |
| 💳 Payment Methods | Bank Branch or Pay Now (online via ATM card) |
| 🔄 Next Steps | Upload O'level results & accept JAMB admission; Change of program if needed |
| 📜 Further Registration | Refer to UMYU Registration Guidelines for New Students |
Procedures for Admission Letter Printing and Acceptance Fee Payment
Newly admitted candidates of Umaru Musa Yar'adua University are encouraged to proceed to the UMYU admission portal to initialise the procedures for admission letter printing and acceptance fee payment.
READ ALSO: MAAUN POST-UTME SCREENING FORM
Step-by-Step Guide to UMYU Acceptance Fee Payment and Admission Letter Printing
Logging In: Candidates are required to log in using their JAMB number and the password utilised during the Post UTME login.
Acceptance Fee Payment: To initiate the payment for the Acceptance Fee, candidates can click here. The acceptance fee amounts to N5,000 for indigenes and N10,000 for non-indigenes. Additionally, candidates should be cognizant of the N300 processing fee for bank charges and the N50 stamp duty.
Payment Methods:

Bank Branch: Candidates opting for this method should print the transaction ID and present it at a bank branch for payment.
Pay Now: Candidates can utilise this option to make the payment online using their ATM cards.

Receipt Printing: It is imperative to print the receipt after the successful payment of the acceptance fee.
Admission Letter Printing: Post successful payment, candidates will be redirected to a link where they can print their admission letters.
Important Reminders for Admitted Candidates
All the successfully admitted candidates are strongly advised to upload their O'level results on the JAMB Portal and accept the JAMB admission on JAMB CAPS. For candidates who have been offered programmes differing from their applied ones, a change of programmes to the ones offered is mandatory, achievable by visiting a JAMB office or any accredited CBT centre.
Subsequent Procedures Post Acceptance Fee Payment
After fulfilling the acceptance fee payment and admission letter printing, candidates are required to proceed with the UMYU Registration Guidelines for New Students, ensuring that all necessary protocols and registration processes are completed as per the university's guidelines.
In summary, the Umaru Musa Yar'adua University looks forward to welcoming the new intakes and wishes them a transformative and enriching academic experience. Adherence to the detailed procedures and guidelines is crucial for a smooth and hassle-free integration into the university's academic life.
I hope you find this article helpful.