Christopher University Post-UTME Form: Form for the Post-UTME at Christopher University (UNICHRIS) for the 2023–2024 academic year.
The 2023/2024 Post-UTME academic session is now accepting applications at Christopher University. The applicant must have taken the 2023/2024 UTME and must have earned credit level passes in 5 subjects from the SSCE/GCE/O-Level/NECO/NABTEB, including English Language and Mathematics. The application can be submitted online at the university's website for a fee of N 10,000. The applicant will receive an email notification once their application has been processed.
UNICHRIS Post-UTME Admission forms
The sale of Christopher University's 2023–2024 admission forms (UNICHRIS Post-UTME Admission forms) was recently made public, ushering in an open call to qualified and enthusiastic applicants eager to join the prestigious institution. The necessary specifications, prerequisites/ requirements, and the step-by-step application process are described below for potential applicants.
Christopher University Post-UTME Admission Requirements
As a standard across Nigerian tertiary institutions, Christopher University maintains specific general entry requirements. Applicants must have achieved credit level passes in five subjects at either the SSCE, GCE, O-Level, NECO, or NABTEB examinations or their equivalents. Importantly, these exams should have been sat a maximum of two times.
The requirement that both English Language and Mathematics must be passed successfully emphasizes the significance of these two core disciplines. Additionally, prospective students should be informed that some colleges and departments at Christopher University can have more stringent requirements.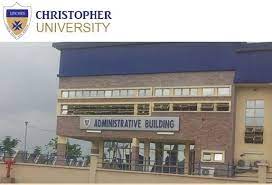 JAMB Requirements
One of the crucial elements in the application process is the requirement to take the 2023/2024 UTME (Unified Tertiary Matriculation Examination). This examination, managed by the Joint Admissions & Matriculation Board (JAMB), is a compulsory prerequisite for admission into all Nigerian universities, including Christopher University.
All applicants must not only take the UTME but also reach or surpass the specified cut-off mark established by the university. To increase their chances of being accepted, applicants are strongly recommended to make sure their UTME subject selections match the program they wish to enroll in at Christopher University.
CHECK ALSO: MOUAU ADMISSION CUT-OFF MARK
Christopher University Post-UTME Application Process
In order to make the application process as simple and effective as possible, Christopher University uses a digital-first approach. For further information and to submit an application, interested candidates should go to the university's website, specifically the application page at https://christopheruniversity.edu.ng/appformundergraduate.php.
In alignment with the aforementioned general requirements and JAMB requirements, all applicants must have sat for the last UTME and obtained credit level passes in five subjects from the SSCE, GCE, O-Level, NECO, or NABTEB, or their equivalents, within a maximum of two sittings.
Once these requirements have been fulfilled, applicants should visit any designated bank branch and pay the application fee of N10,000.00 to Christopher University. Post-payment, candidates should present themselves at the University with proof of payment, copies of their UTME result, O 'level result (SSCE/GCE/O-Level/NECO/NABTEB), birth certificate, and three passport photographs.
These documents, once submitted, will undergo a thorough screening and verification process. Upon completion, a notification regarding the application's processing will be sent to the applicant's email address. Successful applicants will then receive their admission letters via the same email.
Christopher University Post-UTME Admission Summary
| | |
| --- | --- |
| Institution | Christopher University |
| Admission | 2023/2024 Post-UTME |
| Requirements | 5 credit level passes in SSCE/GCE/O-Level/NECO/NABTEB |
| JAMB Prerequisites | Must sit for 2023/2024 UTME and attain cut-off |
| Application | Online at christopheruniversity.edu.ng |
| Application Fee | N 10,000, payable at designated bank branches |
| Documents Needed | UTME result, O 'level result, birth certificate, photos |
| Notification | Via email, the admission letter is sent the same way |
Christopher University's announcement of the 2023/2024 admission form offers an exciting opportunity for potential candidates to join the ranks of its esteemed alumni. Aspiring candidates should carefully review the entry requirements and meticulously follow the application process to maximize their chances of securing admission.
I hope you find this article helpful.