UNILAG Post UTME / Admission Screening Form Details, 2023/2024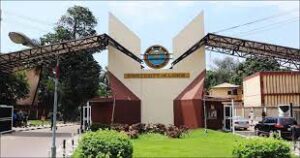 The University of Lagos was founded in 1962. It presently has three Campuses in Yaba and Surulere. Whereas two of its Campuses are located in Yaba (the main campus in Akoka and the recently created campus at the former School of Radiography), its College of Medicine is located in Idi-Araba, Surulere. It is remarkable that all three campuses are located in the Mainland of Lagos. Its main campus is largely surrounded by the scenic view of the Lagos Lagoon on 802 acres of land in Akoka, the North Eastern part of Yaba.
From a modest intake of 131 students in 1962, enrolment in the university has now grown to over 40,000. The University's staff strength is 3,365 made up as follows: 1,386 Administrative and Technical, 1,164 Junior, and 813 Academic Staff.
The University of Lagos currently has twelve Faculties, namely, Arts, Basic Medical Sciences, Business Administration, Clinical Sciences, Dental Sciences, Education, Engineering, Environmental Sciences, Law, Pharmacy, Science, and Social Sciences. UNILAG, as the university is fondly called, also offers Masters's and Doctorate degrees in most of the aforementioned programs.
In addition, it has two Centres, namely, the Centre for Human Rights and the Centre for African Regional Integration and Borderland Studies. The Distance Learning Institute (DLI) of the University also offers courses in Accounting, Business Administration, Science Education, and Library / Information Sciences.
UNILAG Post UTME Form Information for 2023/2024
University of Lagos (UNILAG) 2023/2024 Post UTME screening form for all admission-seeking candidates is now available as has been announced by the institution. All concerned aspirants and interested members of the public that wish to study in the institution are hereby notified and advised to procure their forms as soon as possible.
According to the school's management and authorities, the process of registering candidates for the 2023/2024 Post UTME Screening Exercise registration has commenced at the University of Lagos (UNILAG). The details of the registration and cut-off mark have been released likewise.
UNILAG Post UTME Form and Screening Details
UNILAG Post-UTME form, registration details, cut-off mark, application cost, screening date, and other relevant information for the 2023/2024 academic session have been announced. The minimum required cut-off mark is 200. The application cost is ₦2000. The deadline is Friday, 28th July 2023.
UNILAG Post UTME Screening Invitation
The University of Lagos online registration for the Undergraduate Admission Screening Exercise into ALL COURSES/PROGRAMMES for the 2023/2024 Academic Year will commence from Monday, 10th to Friday, 28th July 2023.
ELIGIBLE CANDIDATES:
Candidates who made the University of Lagos their first choice in the 2023/2024 UTME and scored 200 and above are eligible for screening.
In addition, candidates must possess five (5) credit passes at one sitting in relevant O-Level subjects, including English Language and Mathematics.
Candidates, who will not be sixteen (16) years of age by 31st October 2023 are not eligible and need not apply.
Candidates who do not participate in the Post-UTME screening exercise will not be considered for admission.
Former students of the University whose admission was withdrawn on the basis of poor academic performance or absence status could re-apply on condition that the new admission shall be for a new program/course different from the former program/course. Any student expelled from the University cannot be offered fresh admission.
SCREENING FEE:
₦2,000
REGISTRATION PROCEDURE:
Eligible candidates should log on to the University of Lagos website www.unilag.edu.ng, then, take the following steps:
Click on Admissions
Click on Start Fresh Application
Select Undergraduate Application
Login with UTME number as username and surname in lowercase as password
Generate and print payment advice
Proceed to any commercial bank to make payment or pay online.
Return to the Application portal on the University website
Click on Continue Application to complete the admission screening form
Click on Preview to verify the correctness of the data supplied
Click on Submit
POST UTME TEST (ONLINE)

Post-UTME online aptitude test will hold from Monday, 31st July to Friday, 4th August, 2023.
ENQUIRIES:
Further clarification may be obtained via email: admissions@unilag.edu.ng and the following phone numbers: 09053006772, 08027953216, and 08141656802.
ADVISORY:
Candidates are advised to adhere strictly to the guidelines and obtain necessary clarifications.
The University has zero tolerance for drug abuse. The University shall withdraw the admission of newly admitted students who test positive for drug use whenever the University conducts the test, either before or after registration.
I hope you find this article helpful.