The University of Ilorin is set to mark its 37th and 38th Convocation Ceremonies for the academic sessions 2020/2021 and 2021/2022, respectively. All concerned students are advised to familiarize themselves with the following pertinent details.
UNILORIN Notice To Graduands On 37th And 38th Convocation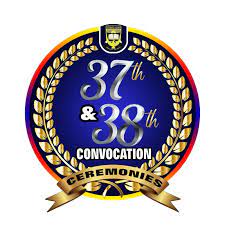 | | |
| --- | --- |
| 📅 Date Range | 13th – 29th October 2023 |
| 🏛 Location | Main Campus, UNILORIN |
| 🎓 Academic Session | 2020/2021 & 2021/2022 |
| 💰 Charges | N38,500 (Undergrad), N41,000 (Master's), N23,500 (Ph.D.) |
| 🎓 Gown Collection | From 16th October 2023 |
| ⚙ Payment Mode | ATM Cards (Master & Visa) |
| 📜 Graduation Materials | Available from 5th October 2023 |
| 📞 Gown Purchase Contact | TEC, UNILORIN: +2348036095330 |
The convocation ceremonies are scheduled to take place from Friday, 13th October 2023 to Sunday, 29th October 2023 at the University's Main Campus.
See also: UNILORIN 37th & 38th Convocation Ceremonies Schedule of Events.
Important Notices for Graduands
Academic Session Duration & Website Confirmation
The 2021/2022 academic session commenced on 15th December 2022 and is set to conclude on 14th November 2023. Graduands whose programs fall within these dates should verify their names and graduation status on the official University of Ilorin website.
Mandatory Convocation Charges
Every graduand is required to cover certain costs related to the convocation, regardless of their attendance. Here are the specifics:
Ph.D. Academic Outfits: Price to be confirmed.
Academic Outfits Purchase (First or Master Degree): Optional; price to be confirmed.
Hiring of Academic Outfits: ₦5,000 (First Degrees), ₦7,500 (Master and Postgraduate Degrees).
Other Charges include Order of Proceedings (₦5,000), Convocation Muffler (₦2,000), Student's Copy of Transcript (₦10,000 for Undergraduate; ₦10,000 for Master & other Postgraduate programs), and Convocation VCD (₦1,500).
For a comprehensive breakdown of the total mandatory charges for Undergraduate, Master, and Ph.D. degrees, refer to the table provided below:
| Degree Type | Charges |
| --- | --- |
| Undergraduate Degree | ₦38,500 |
| Master & Postgraduate | ₦41,000 |
| Ph.D. Degree | ₦23,500 |
Collection of Convocation Materials
From 16th October 2023, graduands can collect their Order of Proceedings, Convocation gowns, and other related items from their respective Faculties upon showing proof of payment. Note that the availability of academic gowns is limited and will be issued on a first-come, first-served basis.
Convocation Rehearsal
Graduands are expected at the University Auditorium by 4:00 p.m. on 18th October 2023 for a rehearsal, following the Vice-Chancellor's Press Conference and Media Chat.
Dress Code & Academic Procession
All attending graduands must partake in the Academic Procession and must wear the official academic outfits. The dress code stipulates a full English wear or national dress. Those hiring gowns must either pay a refundable ₦2,500 deposit or provide a completed Guarantor Form from a university staff member.
Return of Hired Gowns
Graduands must return hired gowns by 25th October 2023 to their Faculty Officers. Late returns will incur a ₦50 daily fine, deducted from the refundable deposit.
Payment Methodology
Payments should be facilitated using Master or Visa ATM cards. Ensure sufficient funds to cover both convocation and bank charges. Payments commence from 5th October 2023.
Academic Gown Procurement
While Ph.D. graduands must purchase the University's academic gown, other degrees have the option to buy. Interested parties can contact the Technical Entrepreneurship Centre (TEC) at University of Ilorin on +2348036095330.
University of Ilorin Alumni Association
All graduands must download, complete, and save the Google Form of the University of Ilorin Alumni Association available on the university website.