The College of Applied Biologists at the University of British Columbia is pleased to announce the establishment of the Linda Michaluk Scholarship (LMS) for the academic session 2023/2024. The scholarship aims to recognize Linda Michaluk's invaluable contributions to the College of Applied Biologists and supports the advancement of science-informed decisions in the public interest regarding natural resources in Canada.
University of British Columbia Scholarship 2023/2024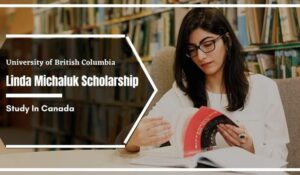 The University of British Columbia (UBC) is a public research university located in Vancouver, British Columbia, Canada. It is one of the top universities in Canada and consistently ranks among the world's best institutions for higher education
It is a prestigious institution known for its academic excellence, research contributions, and commitment to sustainability. It offers a wide range of programs and provides a vibrant learning environment for students.
Application Deadline: November 2023
Description
University or Organization: University of British Columbia
Department: College of Applied Biologists
Course Level: Master or Doctor of Philosophy degree program
Award: $2,500
Access Mode: Online
Number of Awards: Not specified
Nationality: Canadian and International students
The award can be taken in Canada
READ ALSO: ELICOS PATHWAYS SCHOLARSHIPS 2023/2024
Eligibility
Eligible Countries: Open to all nationalities
Acceptable Course or Subjects: The scholarship will be awarded to candidates pursuing studies in the fields related to aquatic or terrestrial ecosystems or the living organisms, habitats, or processes of those ecosystems in the five biological sciences: Botany, Microbiology, Zoology, Ecology, or Biochemistry.
Admissible Criteria: Applicants must meet the following criteria:
Enrolled in a full-time Master's or Doctor of Philosophy degree program at a Canadian university
Conducting graduate work in Canada.
How to Apply
How to Apply: Interested candidates must complete the College LMS Form, which can be downloaded from the official website.
Supporting Documents: Applicants must provide the following supporting documents:
Proof of enrollment in a graduate (Master's) or post-graduate (Doctor of Philosophy) program
Completed LMS Form
Three references from individuals familiar with the applicant's graduate work, with at least one reference letter from the major supervisor
Admission Requirements: Applicants must fulfil the following admission requirements of their respective Canadian university's Master's or Doctor of Philosophy degree program.
Working on a project that advances science-informed decisions/decision-making in the public interest with natural resources.
Language Requirement: Applicants must fulfil the language requirements:
Applicants must be fluent in English language (Verbal as well as written).
Benefits
The Scholarship provides an award amount of $2,500 to support the recipient's academic pursuits and research in the field of applied biology and natural resource management in Canada.
I hope you find this article helpful.