The University of Dayton Merit Scholarship in the USA is an excellent opportunity for international students to pursue undergraduate studies in the United States of America. The merit scholarships for international students are offered to increase the number of international students in the USA and allow undergraduate students to build a pathway towards a successful career.
This primarily aims to create a vibrant community in the world amidst chaos and turbulence and make a difference. Students working hard and with extraordinary academic records are recognized by this international scholarship and offered a chance to study for free in the USA. International students will get a chance to study in the USA and learn about its culture. This USA scholarship will also help students explore further opportunities, whether in academia or career.
The University of Dayton aims to provide challenging real-world situations for students to grow and learn. USA scholarships will help students get exposure to higher educational institutions' international standards. Students will also build networks and interact with people of different backgrounds. The United States is renowned for its high-quality education system. Many American universities consistently rank among the top universities in the world, offering a wide range of academic programs and majors. The emphasis on research, innovation, and critical thinking in the US education system can give students a strong foundation for their future careers. Therefore, do not waste your time and apply for the undergraduate scholarship at the University of Dayton.
University Of Dayton Merit Scholarship In USA 2024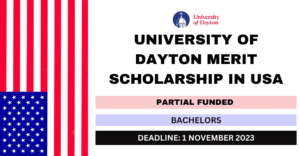 DEADLINE
1 November 2023
STUDY IN
United States Of America
PROVIDER
University Of Dayton
STUDY LEVEL
Bachelor, Undergraduate
SUBJECTS
Subjects offered by the university
FUNDING TYPE
Partial Scholarships
Scholarship Eligibility
The eligibility criteria for the University of Dayton Merit Scholarship in USA are stated below:
1. Applicants must be international students.
2. Applicants must be enrolled in a bachelor's/undergraduate program.
3. Moreover, they must have an excellent academic record.
4. Applicants should provide all the required documents on time.
5. complete the admission application to be considered for the scholarship.
Scholarship Benefits
The benefits of the University of Dayton Merit Scholarship in the USA are:
1. The scholarship will provide an amount of $30,000 towards the undergraduate program tuition fee annually.
2. Experience the American high-quality education system under the supervision of top-ranked supervisors.
3. Furthermore, studying in the USA at the University of Dayton is an excellent opportunity.
4. Explore American culture and meet people from different nationalities.
5. The study programs offered by the university help students build a skillset to thrive in this changing and developing world.
6. No registration fee is required.
7. A textbook scholarship of $4,000 over four years may also be offered.
Others
Required Documents
1. Application form or the common application
2. A personal statement: an essay of 250 words
3. A Bank Statement for financial proof
4. Letter of recommendation
5. Official Secondary Transcripts
6. Proof of English Language Proficiency
I hope you find this article helpful.