The Fully Funded University of Johannesburg Women Scholarship in South Africa is excitedly inviting students to apply for the academic year 2023-2024 at the University of Johannesburg. To be eligible for the grant award, students must either be attending school full-time or part-time. This program is open to applications from female students from certain countries across the world that is planning to further their education at the University of Johannesburg.
Fully Funded University Of Johannesburg Women Scholarship In South Africa 2024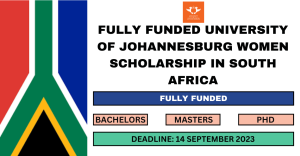 DEADLINE
14 September 2023
PROVIDER
University Of Johannesburg
STUDY LEVEL
Bachelor, Masters, PhD, Undergraduate, Postgraduate
SUBJECTS
Subjects offered by the university
FUNDING TYPE
Fully Funded Scholarships
Scholarship Eligibility
The eligibility criteria for the Fully Funded University of Johannesburg Women Scholarship in South Africa are stated below:
1. Eligible Countries: Developing countries (as listed on the MMEG Country Eligibility List)
2. Acceptable Course or Subjects: The scholarship will be awarded in any subject offered by the University of Johannesburg.
3. Admissible Criteria: To be eligible, the applicants must meet all the following admissible criteria:
4. Self-identify as a woman and be at least 25 years old at the time of the application deadline.
5. Be a national of a country on the MMEG Country Eligibility List (except for the Trinity Washington University program).
6. Be registered (not just accepted) at an accredited academic institution when submitting their application and plan to be enrolled for a full academic term after the award of the MMEG grant.
7. Not be related to a World Bank Group, International Monetary Fund, or Inter-American Development Bank staff member, spouse, retiree, or MMEG Board member.
8. Already be enrolled part-time (minimum of 2 courses per semester or term) or full-time at one of the universities listed on the MMEG website.
9. Be enrolled for at least one more academic term (the term between January and July 2023).
10. Hold a study permit for South Africa if applying from an eligible country other than South Africa.
Scholarship Benefits
The Fully Funded University of Johannesburg Women Scholarship in South Africa will cover educational costs for exceptional female students from eligible developing countries who are pursuing a degree at the University of Johannesburg.
Others
How to Apply
1. How to Apply: Applicants should visit the MMEG website and submit an online application between May 15 and September 14, including supporting documents and two reference letters.
2. Supporting Documents: Applicants must provide the following supporting documents:
3. Identification (ID) card with photo
4. Most recent proof of official registration from the university (not an acceptance letter)
5. Most recent official university transcripts and/or reports
6. Visa page or study permit page within current passport (if studying outside home country)
7. Second passport page with a clear photo (in case of dual citizenship)
8. Brief paragraphs describing the personal story, and how studies, experiences, and future plans are linked to a commitment to women and children in developing countries
9. An estimate of the financial situation, including living expenses, for the coming academic year, and planned strategies to cover funding needs
10. A summary of the thesis (if applicable), including its objective, methodology, findings, and relationship to career goals.
11. Admission Requirements: The applicants must meet the university's academic and entry requirements.
12. Language Requirement: The students must submit scores of the following English language proficiency tests:
a) IELTS – 6 (undergraduate)
b) TOEFL – 80-104 (undergraduate)
c) IELTS – 7 (postgraduate)
d) TOEFL – 105-120 (postgraduate)
I hope you find this article helpful.