The Fully Funded University Of Manchester Scholarship in the UK will be offering Manchester Equity & Merit scholarships for selected master's courses to applicants from Malawi.
Each year The University of Manchester awards Equity and Merit Scholarships to academically excellent students from Sub-Saharan Africa who have the potential to make a significant contribution to sustainable development in their home countries.
Fully Funded University Of Manchester Scholarship In UK 2024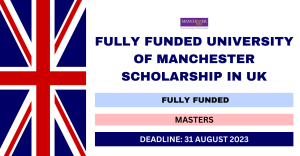 DEADLINE
31 August 2023
PROVIDER
University Of Manchester
STUDY LEVEL
Masters, Postgraduate
SUBJECTS
Subjects offered by the university
FUNDING TYPE
Fully Funded Scholarships
Scholarship Eligibility
The eligibility criteria for the Fully Funded University Of Manchester Scholarship in the UK are stated below:
1. Be a resident citizen of Ethiopia, Malawi, Rwanda, Tanzania, Uganda, or Zimbabwe, and have not previously studied outside Africa (training of six months or less does not count);
2. Have at least two years of professional experience related to your chosen field of study (this does not include unpaid internships or voluntary work);
3. A bachelor's degree (you must have graduated before September 2020) with an overall excellent grade. The awards are for academically outstanding students and typically this means that you are in the top 10% of your class;
4. Be committed to returning home and able to demonstrate the potential to make a positive impact on the future of your home country;
5. Have a clear idea of how studying at Manchester will benefit both your career and the wider community.
READ ALSO: ED-JOHN IMT POST-UTME FORM
Scholarship Benefits
The Fully Funded University Of Manchester Scholarship in the UK will cover full tuition fees, and for students who will be studying in Manchester, the award includes return international airfares, living expenses, and visas.
Others
English Language Requirements:
1. You do not need to provide an IELTS or TOEFL test result when you apply for the scholarship. However, if you are shortlisted for an interview, you will be required to take an approved English test.
2. Each master's program on the scholarship list has its requirements in terms of English test scores. Please refer to the course profiles for more details.
3. In most cases, you will need a minimum IELTS score of 6.5 (with no sub-test less than 5.5) or TOEFL 90 (with no sub-test less than 22) to be awarded a scholarship.
4. We don't grant any exemptions to these language requirements to applicants who have studied in English and we don't accept a certificate of English language proficiency from your university.
I hope you find this article helpful.