The Fully Funded University of Michigan African Scholarship in USA applications from faculty members of colleges or universities in Angola, Botswana, Ethiopia, Ghana, Kenya, Malawi, Mozambique, Nigeria, Rwanda, South Africa, and Uganda. Strengthening African universities is one of the most effective ways to contribute to the continent's growth and continued excellence. This program has helped retain and strengthen faculty members working in African institutions of higher education and empowered them to contribute to international academic networks and set their own research agendas.
University Of Michigan African Scholarship In USA 2024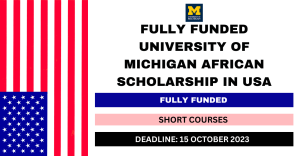 DEADLINE
15 October 2023
STUDY IN
United States Of America
PROVIDER
Https://Ii.umich.edu/Asc/Umaps.html
SUBJECTS
Subjects offered by the university
FUNDING TYPE
Fully Funded Scholarships
Scholarship Eligibility
The eligibility criteria for the Fully Funded University of Michigan African Scholarship in the USA are stated below:
1. Be an early career faculty member who has taught in the higher education system for less than ten years, and who is presently teaching in a college or university in Africa
2. Be employed in an ongoing position at a university or college in Africa
3. Be able to demonstrate support from a home institution with a letter of recommendation from the head of department, dean, or vice chancellor
4. Be able to remain in residence for five months
Scholarship Benefits
The benefits of the Fully Funded University of Michigan African Scholarship in the USA are:
1. Four to six months residency at the University of Michigan in Ann Arbor, Michigan, USA, paired with a faculty mentor with full access to the university's resources
2. Round-trip airfare from their home country to Ann Arbor, Michigan
3. Free housing, and a modest stipend to cover living, health care, and research costs while at U-M. The UMAPS program is unable to accommodate spouses and/or dependents
4. Office/Laboratory space
5. Opportunity to present research to the U-M community
Others
What Are Eligible Field(S):
1. African Heritage and Humanities Initiative (AHHI) supports research related to the arts, humanities, and interpretive social sciences, which highlights the dynamic, contested process by which African cultures and histories are made;
2. The African Social Research Initiative (ASRI) promotes social science research on democratic governance and distributive politics; income dynamics and poverty; and gender, health, and development;
3. Science, Technology, Engineering, and Mathematics Initiative (STEM-Africa) seeks to nurture the study of science, technology, engineering, and mathematics in Africa, which extends scientific knowledge and yields solutions to global problems.
I hope you find this article helpful.