The Fully Funded University of Milan Scholarship in Italy is open to international students. International students can apply for the Bachelor, Master, and PhD Degree programs at Milan University. It is the largest university in Italy.
Getting a Scholarship in Italy is very easy. For this scholarship, you only need to get an admission offer letter. You have to apply online and in the online application form you can select the DSU Scholarship. IELTS is not required for Milan University as well as for the DSU Scholarship. You can apply with the English Language Proficiency Proof.
Fully Funded University Of Milan Scholarship In Italy 2024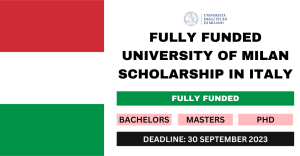 DEADLINE
30 September 2023
PROVIDER
University Of Milan
STUDY LEVEL
Bachelor, Masters, PhD, Undergraduate, Postgraduate
SUBJECTS
Subjects offered by the university
FUNDING TYPE
Fully Funded Scholarships
Scholarship Eligibility
The eligibility criteria for the Fully Funded University of Milan Scholarship in Italy is stated below:
International applicants from all countries can apply.
Scholarship Benefits
The benefits of the Fully Funded University of Milan Scholarship in Italy are:
1. Free Accommodation at University.
2. If no place left, a payment towards accommodation will be given.
3. Free meals at the University dining halls
4. Contribution to cover extra expenses (sporting activities, books, etc.)
5. Exemption from University tuition fees.
6. A yearly Stipend of 7200 Euros
Others
Faculties and Study Areas
Engineering
Computer
Faculty of Agricultural and Food Sciences
Faculty of Humanities
Faculty of Law
Faculty of Medicine
Faculty of Pharmacy
Faculty of Political, Economic, and Social Sciences
Faculty of Science and Technology
Faculty of Veterinary Medicine
School of Exercise and Sport Sciences
School of Language Mediation and Intercultural Communication
I hope you find this article helpful.