The Fully Funded University of Siena Scholarship in Italy is accepting applications from students who want to pursue master's, bachelor's, or Ph.D. degrees. The University of Siena is a popular university for international students. IELTS is not required. You can apply with the English Language Proficiency language proof.
Fully Funded University Of Siena Scholarship In Italy 2024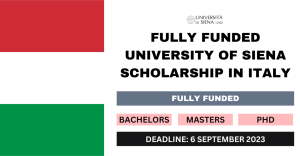 DEADLINE
6 September 2023
PROVIDER
University Of Siena
STUDY LEVEL
Bachelor, Masters, PhD, Undergraduate, Postgraduate
SUBJECTS
Subjects offered by the university
FUNDING TYPE
Fully Funded Scholarships
Scholarship Eligibility
The eligibility criteria for the Fully Funded University of Siena Scholarship in Italy are stated below:
1. International students from developing countries can apply.
2. The scholarship will be awarded based on family income.
READ ALSO: SINGAPORE INTERNATIONAL GRADUATE AWARD (SINGA)
Scholarship Benefits
The benefits of the Fully Funded University of Siena Scholarship in Italy are:
1. Free Accommodation at the University. If no place left, a payment towards accommodation will be given.
2. Free meals at the University dining halls
3. Contribution to cover extra expenses (sporting activities, books, etc.)
4. Exemption from University tuition fees.
5. A yearly Stipend of 7200 Euros will be credited into the bank account.
Others
Please keep the following documents ready for upload (PDF format):
1. Valid ID card (only for EU – or equivalent – applicants)/Passport
2. Academic transcript
3. Transcripts, certificates, results.
4. Curriculum Vitae
5. Motivation Letter
6. Language proficiency certificates (if required for the chosen degree program)
7. Official Transcripts and diplomas.
I hope you find this article helpful.