The Fully Funded University of Sydney Postgraduate Research Scholarship is open to all internationals to pursue a postgraduate research degree in Radio Transients and Variables.  The educational program is open for the academic session 2023-2024. The main purpose of this award is to support dazzling overseas students who are going to enroll in postgraduate research degree coursework at the university.
DEADLINE
12 September 2023
PROVIDER
University Of Sydney
STUDY LEVEL
Postgraduate Research
SUBJECTS
Subjects offered by the university
FUNDING TYPE
Fully Funded Scholarships
University Of Sydney Postgraduate Research Scholarship 2024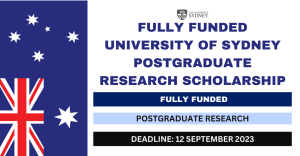 -Scholarship Eligibility
The eligibility criteria for the Fully Funded University of Sydney Postgraduate Research Scholarship are stated below:
1. Eligible Countries: All international students are eligible to apply.
2. Eligible Course or Subjects: Students can apply to any full-time undergraduate, postgraduate coursework, or postgraduate research degree at the University of Sydney.
3. Eligibility Criteria: To be eligible, the applicants must meet all the following criteria:
READ ALSO: DISTINCT POLY EKOSIN POST-UTME FORM
4. Have an unconditional offer of admission for full-time studies in a Doctor of Philosophy (PhD) within the School of Physics, Faculty of Science at the University of Sydney
5. Be willing to undertake research into radio transients
6. Hold either an Honours degree (First Class or Second Class Upper) or a Masters degree with a substantial research component or equivalent.
Scholarship Benefits
The Fully Funded University of Sydney Postgraduate Research Scholarship provides a $37,207 p.a. (up to 3.5 years) tuition fee for the duration of their course at the University of Sydney.
Others
How to Apply
1. How to Apply: Students can submit their admission applications by logging in to the university portal at the University of Sydney. After that, applicants must submit an online application form for this award.
2. Supporting Documents: Submit a personal statement on the following:
3. Demonstrated academic achievement,
4. Demonstrated research experience,
5. Curriculum vitae,
6. Area of study and/or research proposal,
7. Feedback from two academic referees,
8. A personal statement that outlines interest in this area of research and details relevant academic and/or professional experience that is relevant to the research project,
9. Good proficiency in the Indonesian language (minimum requirement of intermediate-level reading and speaking skills)
10. Admission Requirements: Applicants must fulfill the entry requirements of the university.
11. Language Requirement: If English is not your first language, you will need to provide proof of your English proficiency before you can commence your studies at the University.