The Fully Funded University of Turin Scholarships in Italy is open to all internationals. The scholarship is available to study for Undergraduate and postgraduate degree programs. The available scholarships at Turin University are full, partial, and merit-based.
Turin University offers various scholarships for students who want to pursue their academic careers at the university. These scholarships, such as engineering, social sciences, natural sciences, humanities, and many more, cover various study fields. Some scholarships from Turin University are only offered to students from certain regions or nations, while others scholarships are available to all students from all over the globe.
The University of Turin is a public research university commonly known as Università degli Studi di Torino in Italian. It was founded in 1404 and is located in the city of Turin, Italy. It is one of the oldest universities in Europe, and it today enrolls over 70,000 students in its undergraduate, graduate, and doctoral programs. A wide range of academic fields, including the humanities, social sciences, law, economics, engineering, medicine, and natural sciences are available at the University of Turin.
Turin University has a strong worldwide presence with connections and collaborations with universities and institutions around the world.
Fully Funded University of Turin Scholarships in Italy 2024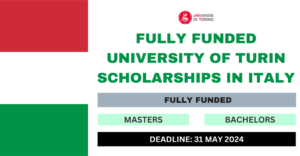 DEADLINE
31 May 2024
STUDY IN
Italy
PROVIDER
University Of Turin
STUDY LEVEL
Bachelor, Masters, Undergraduate, Postgraduate
SUBJECTS
Subjects offered by the university
FUNDING TYPE
Fully Funded Scholarships
Scholarship Eligibility
The eligibility criteria for the Fully Funded University of Turin Scholarships in Italy are stated below:
1. Both Italian and international students are eligible to apply for scholarships.
2. Applicants must demonstrate outstanding academic skills with achievement. Also, show high grades, a minimum GPA for the specific scholarship program, and academic awards.
3. Applicants must provide their evidence or documentation to demonstrate their financial situation.
4. To be eligible for the scholarship, applicants must be enrolled or admitted to a degree program at the University of Turin.
5. Applicants must demonstrate proficiency in the language of instruction at the institute, which may be Italian or English.
6. The personal background of applicants may also be considered, such as leadership skills, community involvement, and extracurricular activities.
7. The scholarship may also demand some sort of research interest or require research experience.
Scholarship Benefits
The benefits of the Fully Funded University of Turin Scholarships in Italy are:
1. Tuition fees (partial or full) are covered, depending on the scholarship program.
2. Some scholarships may cover accommodation fees.
3. Living expenses such as transportation, food, and other personal expenses are covered.
4. Stipend for Books and study materials.
5. Research and travel expenses
Others
Required Documents
1. Completely fill application form
2. Passport or ID
4. Previous academic records
5. Letters of Recommendation
6. Personal Statement
7. English Language Proficiency score (TOEFL or IELTS)
8. Financial Documents (to demonstrate financial circumstances)
I hope you find this article helpful.