The Fully Funded USIP Peace Scholar Fellowship in the USA is open to all internationals. This program partners with the Minerva Research Initiative to support additional fellowships. Currently, the program awards up to 18 fellowships per year, and awards support both the research and writing stages of work on dissertations.
Applications from members of groups traditionally under-represented in the field of international relations, peace and conflict studies, security studies, and other related academic disciplines, as well as diplomacy and international policymaking, are strongly encouraged.
Fully Funded USIP Peace Scholar Fellowship In USA 2024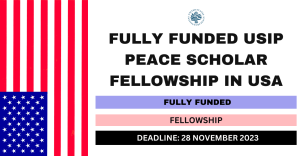 DEADLINE
28 November 2023
STUDY IN
United States Of America
PROVIDER
United States Institute Of Peace
STUDY LEVEL
Fellowship
SUBJECTS
Subjects offered by the university
FUNDING TYPE
Fully Funded Scholarships
Scholarship Eligibility
The Fully Funded USIP Peace Scholar Fellowship in the USA from Ph.D. candidates with high-quality, policy-relevant research that will deepen their understanding of conflict management, peacebuilding, and other applicable security-related studies. USIP strongly prefers applications closely related to the USIP Issue Areas and/or research priorities of the Minerva Research Initiative.
Special consideration will be given to proposed research in the following areas:
Strategic rivalry
Global shocks and fragility
The American approach to peacebuilding
Scholarship Benefits
The benefits of the Fully Funded USIP Peace Scholar Fellowship in the USA are:
1. USIP funds up to 18 Peace Scholars for a 10-month, non-residential fellowship. Peace Scholars receive stipends of up to $20,000 paid directly to the individual in three tranches. Peace Scholar awards may not be deferred.
2. Peace Scholars must participate in an annual workshop in person in Washington, D.C., in Fall 2024. The Peace Scholar is required to submit a copy of their completed and committee-approved dissertation to USIP
Others
Important Dates
Registration opens: on Thursday, September 7, 2023
Registration closes: Thursday, November 16, 2023 at 4:00 PM EDT
Application deadline: Tuesday, November 28, 2023 at 4:00 PM EDT
Letters of reference due: Tuesday, December 5, 2023 at 4:00 PM EDT
I hope you find this article helpful.