Ahman Pategi University (APU), renowned for delivering quality education across various disciplines, is on the lookout for an individual of exceptional calibre to take on the esteemed role of Vice-Chancellor.
Vice Chancellor Position At Ahman Pategi University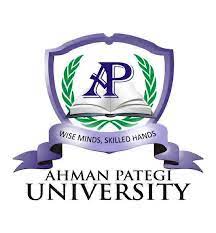 Who Can Apply?
Essential Qualifications
You must be a

Professor

for at least

eight (8) years

, holding a PhD in a discipline offered at APU.
You should be

under fifty-five (55) years

at the time of taking office.
Having delivered an

inaugural lecture

is a requisite.
A minimum of

fifteen (15) years

as a lecturer at reputable universities is necessary.
Desirable Experience
Proven ability to

mobilize financial resources

from national and international bodies is vital.
Experience in

establishing or restructuring

tertiary institutions will stand you in good stead.
Proficiency in

ICT

and a positive approach towards technology are imperative.

Physical fitness

,

strong moral fibre

, and

impeccable character

are non-negotiable.
The Role and Its Responsibilities
What Will You Do?
Provide

leadership and direction

, fostering accountability and adherence to the University's statutes and regulations.
Manage

funding and resources

effectively.

Promote and advance

the University's vision, mission, and objectives.
Facilitate

cooperation

among all university organs.

Manage resources

within approved estimates.
Undertake any duties assigned by the Governing Council.
Terms of Appointment
The role is for a

five-year term

, with the possibility of a second term.
The

terms and conditions

of service will be detailed in a contract.
Application Process
Your Curriculum Vitae Must Include
Personal Details

: Full names, date of birth, nationality, and contact information.

Academic and Professional History

: Institutions attended, qualifications, honors, and memberships.

Scholarly Work

: Publications and contributions to academic fields.

Administrative Experience

: Previous roles and accomplishments in the university system.

Community Service

: Contributions to local, national, and international communities.

Current Employment

: Status, salary, and details of the current employer.

Extracurricular Activities

: Engagements beyond your professional work.

Referees

: Names and addresses of three individuals who can attest to your suitability for the role.
Vision Statement
You must also present a vision statement for APU, detailing your aspirations and plans for the university's next five years. This should be a thoughtful narrative between 600 to 1000 words.
How to Submit Your Application
Ensure your application is directed to the

Pro Chancellor

of Ahman Pategi University.
Email scanned copies of your application, CV, credentials, and vision statement to ahmanpategi2023@gmail.com, with the job title as the email subject.
Closing Date and Further Steps
The deadline for applications is

Friday, 10th November 2023

.
Shortlisted candidates will be invited for an interview with the Selection Committee.
Note: This role requires you to reside within the main campus in Patigi, Kwara State, Nigeria.
In summary, Ahman Pategi University is seeking a leader who will not only uphold the highest academic standards but also champion the growth and development of the institution in the years to come.