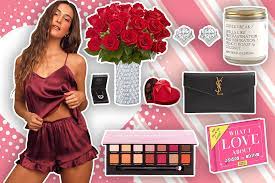 Valentine's day is a very very special day for couples who want to convert their friendship into love. Valentine's day is the day when girls wait for a love proposal from someone.
In this article we would be looking at 10 Best Ever Valentine Ideas 2023.
Next Valentine's day is coming on Tuesday, February 2023, and have you planned some best ways to propose a girl on Valentine's day or anything to make your Valentine's day more special and memorable? So, are you looking for some best Valentine's ideas to make it memorable and extraordinary? If yes, you are in the right place.
We have prepared a list of the top 10 best Valentine ideas to make it memorable. If you have other ideas for making Valentine's day very special, you can leave it in the comment section.
Top 10 Best Ever Valentine Ideas 2023
10. Send an E-card
As in the new year, we offer our friends a "Happy New Year" Card similarly, for Valentine's Day but E-Card. It is one of the latest Valentine ideas to say Valentine if you are a shy person or at a long distance. Select an appropriate E-card for your loved one. The E-cards are available on the internet ranging from funny and flippant to poetic and loving ones. Put in a personalized message to the E-card showing your deepest feeling for him/her and make him/her feel special & delight this Valentine's day. And nowadays people are literally using this method to propose to their loved ones on Valentine's Day.
9. Make a video
Nowadays Tik Tok is much popular among people across the world. People love to enjoy watching short videos with background music. In the same way, you can also prepare a video with perfect background music that shows your love for your loved ones. The only thing you need is to have a camera or a good camera phone. Lots of people try this on Valentine's Day and not a bad Valentine's idea. This will make him or she'll go gaga and fall in love with you once again.
8. Buy a rose for your love
One of the evergreen and romantic ways to propose a girl is sitting on the knees and proposing with a rose. Every girl loves roses, particularly at the time of the love proposal. Buy a dozen roses for her and if possible hide them in various spots in your house or places where you meet. Give her a first when she arrives attached with a notification where to find the other one. If probable write a few lines showing your love for her on the notifications. This Valentine's idea will surely gonna make your valentine's day more romantic & memorable.
7. Candlelight Dinner
Candlelight Dinner is one of the most romantic Valentine ideas to make it very special and memorable. Arrange a romantic candlelight dinner for your sweetheart. You can go to an eating place (Restaurant) or arrange it either at home. Make romantic surroundings with light background music, candlelight. Decorate the table with rose petals if possible make a heart shape decoration with you and your lover's name. After dinner merely dances slowly with your partner. It is the best method to make Valentine's Day more romantic & memorable.
6. Prepare a dessert for your Valentine
• Women– Prepare your sweetheart's much-loved dessert yourself on this Valentine's day and surprise him.
• Men– Take her to her favorite restaurant or bakery for a sweet surprise. If she likes cake order a heart-shaped cake. If preferred you can write "I Love You" or "You Are My Life" etc. on the cake.
5. Balloons in the Car
If you usually go in your car with your partner or you want to propose, then this could be one of the best Valentine's ideas for you. Decorate your car with balloons & roses and when she will notice it, your half work will be done automatically. Once she settles down, you can propose her with some good pickup lines. Besides that, you can leave a note showing your love for him or her in the car and make them fall in love with you again.
4. Beach Walk
If you live near the beach site, this could be a perfect idea to celebrate Valentine. Walk on the beach at sunset having hands in hands. Enjoy the sunset and say the three romantic and magical words "I Love You" to your loved ones and show how much she or he means to you. No doubt, this is one of the best ways to make Valentine's Day romantic.
3. Beach Dinner
It was found that many couples go for dinner at the beachside in order to make Valentine's day more romantic & memorable. If possible arrange a candlelight dinner or the beach, lake, or pond with some soft and light music. Just enjoy your sweetheart's company in the sky full of stars. If much loved, you can also rent a boat for dinner which all depends on your pocket.
2. Love Letter
Love letters are still the most adored as well as appreciated means of communication to express love feelings. It is one of the best ideas to celebrate Valentine's Day more romantic and memorable. A love letter showing your eternal charm will do the delightful. Don't worry if you are not good at words, just write what she or he means to you in simple words and see the magic. If she likes you, she will surely accept your love letter.
1. Couple Pictures
Valentine's Day is a day for lovers as well as couples. Gift a heart-shaped picture frame to your partner with you and your sweetheart picture in it. You can select the picture of you purposing to her, your first date, your engagement photographer, your marriage photographer, etc which shows your sweetest moment. You will also surprise your sweetheart by presenting a picture of them professionally painted onto smartphones.
I hope you find this article helpful as well as interesting.