Nursing can be a rewarding and lucrative career. However, as with all professions, this career path comes with challenges many nurses experience, from scheduling to handling hazardous materials. Preparing for these situations and learning to address them professionally and personally can help you manage them better.
In this article, we discuss what nurse challenges are, common challenges you may face and tips for overcoming nursing challenges.
What are nurse challenges?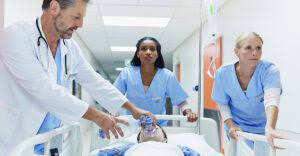 Nurse challenges are difficult situations, experiences or expectations that are common in the nursing profession. These challenges include physical, emotional and mental experiences that result from the particular requirements of working as a nurse.
8 nurse challenges
Here are some of the challenges nurses face in their profession:
1. Long shifts
Nurses often work 8- or 12-hour shifts. After completing all the necessary charting and shift change procedures, these shifts frequently end up being even longer. Working such long hours can be physically and mentally taxing, leading to burnout.
To help prevent burnout and maintain energy during a shift, make sure to get enough rest when you're not working. Planning ahead will help balance completing day-to-day errands and having enough time to rest and recharge between shifts.
2. Changing schedules
Nurses' shifts sometimes change from one week to the next, which can make it difficult to adjust to the schedule. For example, a nurse may work 7 a.m. to 7 p.m. Tuesday, Wednesday and Thursday one week and 7 p.m. to 7 a.m. the following Thursday, Friday and Saturday. Constantly changing schedules can interfere with sleep patterns, so it's important to get as much rest as possible between shifts.
Try to schedule personal appointments and other obligations during an extended period of time off. You can also talk to your family and friends and explain when you have several weeks of challenging shift times coming up so they don't place unrealistic expectations on you.
3. Emotional involvement
The work that nurses do is personal and meaningful. Unlike many other professions, nurses become emotionally invested in their patients' lives and outcomes, which can be a difficult burden to carry over many years.
As a nurse, be sure to have a strong support system at home with friends or family that you can talk with about your feelings and emotions. Your employer will also usually have support resources available to you especially after working through a critical event or experiencing a traumatic case. You can also reach out to close friends, family members and professional counselors to help you process your experiences and cope with your feelings in constructive, healthy ways.
4. Physical demands
During nurses' shifts, they're often required to perform physically demanding duties, such as:
Helping to lift, reposition and transport patients

Carrying heavy objects

Standing for long periods of time with few breaks
This type of regular strain on the body can lead to injury. To combat these risks, always follow safe lifting procedures and ask for help if you need it. Try to exercise regularly to maintain strength, stamina and flexibility that will make it easier for your body to manage physical tasks.
5. Exposure to illness and chemicals
Because nurses care for sick patients, they experience a higher level of exposure to pathogens than the average person. This can increase their likelihood of contracting an illness. Nurses also work with hazardous chemicals used for cleaning and sanitizing as well as some medications, which can pose a health risk.
Nurses should always follow safety protocols when working with patients and hazardous materials, including:
Wearing personal protective equipment (PPE) such as goggles, gloves, gowns and masks

Reading instructions for the use of all chemicals and machinery

Disposing of sharp objects correctly

Appropriately labeling all containers and specimens
6. Lack of nurses
By now, everyone is probably aware that there is a national nursing shortage. While this creates a lot of job security, it also means there are fewer nurses to get the job done! Sometimes this results in nurses more overtime because of inadequate staffing. When hospitals and other medical facilities don't have enough patient care professionals for a shift, they may even require nurses to work longer hours or extra shifts.
To avoid burnout, research the overtime and scheduling policies of places that you're interviewing with. Talk to nurses who work at these places about their overtime schedules. You can also try to find nursing positions that offer more traditional hours, such as a private clinic or administrative role.
7. Changing technology
Technological advances in healthcare can require nurses to learn new software and programs frequently. Learning new systems can be challenging for professionals who aren't familiar with technology, especially when added to an already demanding job.
To help you feel comfortable with new technology, be sure to attend training or request additional training if you need it. Ask questions until you understand and can use the programs on your own.
8. Poor treatment from patients
Nurses may experience poor treatment from their patients or patients' loved ones while trying to provide care. These behaviors may be physical or verbal but can greatly impact a nurse's work environment. Patients may respond poorly to you because of miscommunication, the influence of drugs or alcohol or psychiatric conditions.
You should always report dangerous or threatening behavior to your supervisor immediately. You can also inform your facility's security team or law enforcement, depending on the severity of the issue.
Tips for overcoming nursing challenges
Here are a few ways you can address common challenges you may face as a nurse:
Prioritize your sleep. Traditional nursing schedules can make it hard to develop regular sleep patterns. Find ways to help yourself get seven to nine hours of sleep between your shifts, such as using dark curtains, putting your phone away, installing a sound machine and asking your partner to take the kids out of the house.

Ask for help. When you start to feel overwhelmed or burnt out, talk to someone. Ask for help from friends and family or use services to help you complete tasks, such as grocery delivery, meal preparation and dog walkers.

Practice healthy habits. Incorporate healthy habits into your lifestyle, like exercise and proper hydration, to help you fight illness and feel energized.

Take care of your physical and mental health. Be sure to schedule time to do things that replenish your energy and maintain your resilience, like regular exercise and meal prepping.

Find a supportive environment. Look for a position that closely aligns with your interests and scheduling preferences. Explore other nursing options such as leadership, research and administration.
I hope you fidn this article helpful.