Forensic science refers to using investigative techniques to identify evidence and solve criminal cases. One area of forensic science that can be especially valuable during investigations is computer forensics, which involves gathering and examining evidence from electronic devices. If you have a background in information technology and are interested in entering the field of law enforcement, you might enjoy a job in computer forensics. In this article, we explore a list of eight jobs in computer forensics.
What is computer forensics?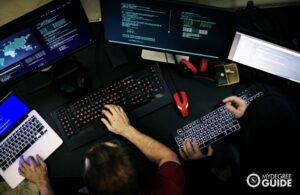 Computer forensics is the process of collecting data from technological devices to use as evidence in investigations and criminal cases. Some people also refer to computer forensics as digital forensics or cyber forensics. Most jobs in computer forensics involve responsibilities like collecting evidence from electronic devices, using data from electronic devices to investigate criminal cases and maintaining the chain of custody for each piece of evidence. Many professionals in computer forensics have extensive backgrounds in information technology or cybersecurity implementation that allow them to identify security breaches and irregular activity quickly and easily for law enforcement agencies.
What is the job outlook for computer forensics?
According to the United States Bureau of Labor Statistics, the number of people employed as forensic science technicians, which can include certain professionals in computer forensics, is expected to increase by 14% from 2019 to 2029, which is an exceptionally rapid rate of growth. The BLS attributes this growth to advances in technology that can enhance forensic operations. They also refer to a trend that indicates government agencies at local and state levels seem to be increasing the number of forensic science technicians they hire, which can create more jobs for new professionals in forensic science.
8 jobs in computer forensics
Here are eight jobs you can get in computer forensics:
1. Crime scene technician
National average salary: $46,925 per year
Primary duties: A crime scene technician supports law enforcement officials at crime scenes by assessing the evidence that's present. Their job can involve identifying pieces of evidence at a crime scene, conducting tests later in a laboratory and keeping detailed reports of the evidence they find. Crime scene technicians who specialize in computer forensics can also gather data from electronic devices and analyze it as evidence.
2. IT security specialist
National average salary: $56,678 per year
Primary duties: An IT security specialist responds to cybersecurity concerns at an organization and develops solutions for enhancing cybersecurity efforts. IT security specialists can upgrade the anti-virus software an organization uses, add new software to encrypt data and use firewalls to protect information and find ways to protect files on a computer and while in transmission to other systems or users. In computer forensics, an IT security specialist might help law enforcement retrieve encrypted data and bypass firewalls to conduct investigations.
3. Computer forensic analyst
National average salary: $60,555 per year
Primary duties: A computer forensic analyst helps law enforcement agencies investigate criminal activity using electronic devices. Their job can involve recovering hidden or deleted data from computers and other devices, maintaining a strict chain of custody for each piece of evidence and offering advice to law enforcement officials about how to interpret different types of data. Computer forensic analysts can also sometimes interview suspects or victims to learn more about the context surrounding the data they collect.
4. Systems analyst
National average salary: $73,544 per year
Primary duties: A systems analyst evaluates the systems that an organization uses to determine its effectiveness and recommend improvements. Systems analysts can investigate an organization's data storage to ensure it's secure, research new technologies that they can recommend to clients and identify areas of a system that need updates or replacement. A systems analyst can contribute to computer forensics by accessing the data stored in computer systems for investigators.
5. Security consultant
National average salary: $85,545 per year
Primary duties: A security consultant evaluates the cybersecurity systems in an organization and recommends ways to improve them. Security consultants can run tests on computer systems to identify areas that might be susceptible to breaches, verify that an organization adheres to all cybersecurity compliance regulations and develop ways to enhance the cybersecurity in an organization. When working in computer forensics, they can also retrieve data, such as consumer data and software coding, that law enforcement can use in criminal investigations.
6. Information security analyst
National average salary: $86,747 per year
Primary duties: An information security analyst is a cybersecurity specialist who protects information stored on electronic devices. Their job can involve inspecting a computer network to determine whether it has any risk for security breaches, installing defensive software like data encryption and firewalls and developing plans for responding to emergencies that compromise data. In computer forensics, an information security analyst can recover data from encrypted or deleted files to use as evidence.
7. Cybersecurity analyst
National average salary: $93,981 per year
Primary duties: A cybersecurity analyst assesses a company or organization's cybersecurity systems to identify ways they can protect their data more efficiently. Cybersecurity analysts can evaluate the security measures that an organization takes to protect its computers and other technological devices, develop responses they can use in the case of cybersecurity attacks and create new procedures that an organization can implement to enhance the effectiveness of its cybersecurity.
8. IT auditor
National average salary: $95,004 per year
Primary duties: An IT auditor is a professional in information technology who conducts evaluations of computer networks and systems. IT auditors can test a computer network to ensure it runs efficiently, investigate the systems an organization uses to identify potential weaknesses and recommend new IT products to improve the security and performance in an organization. In computer forensics, IT auditors can use their expertise to retrieve data and determine whether someone is using computer networks for illegal purposes.
I hope you find this article helpful.