If you're considering a career in neurophysiology, it's important to understand the qualifications for the position. Neurophysiologists possess many key skills that allow them to work with complex bodily systems and ensure patient integrity. Understanding these skills can help you determine whether this is a good career path and better understand the job requirements. In this article, we define the role of a neurophysiologist, explore the benefits of the job and identify eight core skills you often require for a career in neurophysiology.
What is a neurophysiologist?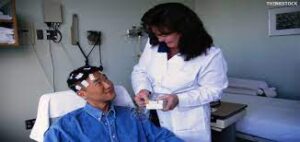 A neurophysiologist is a medical professional who completes tasks associated with neurology, or the study of neurological science, and physiology, or the study of how bodily systems function. A neurophysiologist studies the functions of the brain, brain stem, spinal cord, peripheral nervous system, sensory organs and any other bodily system associated with the nerves or the general nervous system. They explore new conditions, diagnose diseases or malfunctions, study patterns in neural evolution, conduct electromyography (EMG) tests and work with other researchers.
Benefits of becoming a neurophysiologist
Becoming a neurophysiologist can provide many benefits, including:
Completing challenging work: Neurology and physiology are complex branches of medical science that can offer challenging work. For candidates who enjoy a challenge and like to feel satisfied with what they do, neurophysiology can be a great choice.

Helping patients: Neurophysiology allows job candidates to work in the medical field assisting other people with debilitating conditions and to perform valuable medical research that can help others.

Working in a scientific niche: Neurophysiology is a medical niche with a relatively low population of professionals, which can mean greater job security, more specialization and potentially higher salaries.

Discovering new treatments: One of the advantages of working in such a small niche of neuroscience is that you may be the first to discover new conditions, treatments or neurological patterns, possibly gaining notoriety for your efforts.
8 key neurophysiologist skills for your career
To work in neurophysiology, candidates need certain core skills, including:
1. Empathy
One of the core skills for a neurophysiologist or any medical professional is empathy. This skill is crucial because it helps medical professionals understand patients and their needs and allows them to recognize a patient's need for help. This can help medical professionals earn the trust of their patients and create a more healthy, constructive relationship between medical professionals and their patients.
2. Neurological and anatomical expertise
Neurophysiology requires specialized knowledge both in neurology and anatomy and physiology. These medical professionals have a deep understanding of bodily systems and their functions, especially the brain and nervous system. This anatomical expertise helps neurophysiologists explore certain symptoms or dysfunctions and properly diagnose neurological conditions. They might study the effects of other areas of the body to determine if the patient has a neurological condition or run tests with specialized equipment and decipher the results.
3. Interpersonal skills
Another core skill for neurophysiologists is the ability to work with others, communicate information and understand other people. Interpersonal skills are important because these professionals work directly with patients, their families and other caregivers. For example, a neurophysiologist might explain the results of a specific test to the patient and their family, which can require tact and a professional demeanor. They might also prepare a report for that patient's primary care physician, which requires a professional tone and correct documentation. Interpersonal skills can help create better relationships with the people around you.
4. EEG and EMG skills
Neurophysiologists operate both electroencephalography (EEG) and EMG machines. They use these machines to test brain waves and nerve activities in patients to diagnose conditions, identify systems or perform research. Neurophysiologists have strong skills in operating each machine and understand how to decipher the results. They know where to place leads for proper nerve signals and how to explain the nature of the tests to their patients. A thorough understanding of this equipment can help the neurophysiologist perform a proper test and ease the patient's concerns with an explanation of its purpose.
5. Patient care
Patient care skills are also important for neurophysiologists. This includes an understanding of how to ease a patient's concerns about tests, equipment or procedures and how to give medical advice with compassion and tact. They also understand how to manage their and the patient's stress to create a more calming and supportive medical environment. Time management is a crucial patient care skill because neurophysiologists might see multiple patients during the day and understand how to allocate the proper amount of time to each to maintain care integrity.
6. Medical ethics
Medical ethics skills are any skills that relate to the protection of patient dignity, privacy and data and the correct use of medical practices. Neurophysiologists are subject to strict medical ethics codes that define how they interact with and treat their patients. These rules outline proper care and professional discourse, proper documentation and protection of patient information.
7. Medical terminology
Neurophysiologists also need specialized knowledge in medical terminology. Medical terminology is mostly in Latin, which can require a lot of practice to master. Neurophysiologists understand medical terminology relating to different parts of the body, not just the brain and nervous system. This is typically something the neurophysiologist masters during their education and continues to use and hone throughout their career. Medical terminology can help them communicate on medical documents, and reports and understand medical information from other professionals.
8. Independence and responsibility
While neurophysiologists can work as part of a team, they typically work independently during testing and patient consultations. This requires a certain level of independence, self-management and responsibility. Neurophysiologists can maintain their schedules, adhere to their deadlines and remain responsible for caring for each one of their patients in whatever way is necessary. They can also set their medical standards under medical law and ethics and are responsible for maintaining the quality of their care during their practice.
I hope you find this article helpful.