Business analysts study data to help businesses improve their operations. Regardless of your current experience and background, knowing some of the most important reasons to become a business analyst can help you decide if it's an appropriate career for you. Discovering the positives of a business analyst job can help you plan your career path, and you can do so by researching the subject. In this article, we discuss some of the most important reasons why becoming a business analyst can be an appropriate career move.
What is a business analyst?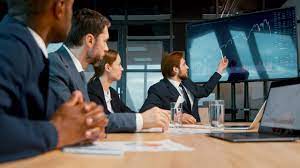 A business analyst is a professional who evaluates current and historical business data to help the organization make effective decisions. They interact directly with an organization's stakeholders and constantly try to identify ways in which various practices can improve operations. Many businesses heavily rely on business analysts to present complex sets of data to stakeholders, enabling them to make the most appropriate decisions in a variety of situations.
What are some of the main reasons to become a business analyst?
Some of the most important reasons why pursuing a career as a business analyst can be a good decision are:
1. Above-average wages
The average base salary for a business analyst working in the U.S. is $74,143 per year, according to Indeed. The same source mentions that business analysts also receive a yearly cash bonus of $4,000, on average, plus other benefits, such as health insurance and a 401(k) contribution. This is significantly higher than the average annual salary in the U.S.
2. High level of independence
Business analysts frequently have to complete new tasks and face unprecedented challenges, meaning that they usually don't have to closely follow a certain set of procedures. They also constantly communicate with their company's upper management, which gives them the trust and freedom to approach issues however they consider to be appropriate. This gives them a higher level of independence than most other business-related roles.
3. New challenges
Because most business analysts constantly face new challenges, their work typically isn't repetitive. Besides always having different tasks, business analysts also usually have the freedom to set their own schedules. Each project is different, so the business analyst has the flexibility to decide how best to approach each new challenge.
4. Impactful work
Although most roles contribute to an organization's success, employees don't usually get the chance to see a direct improvement because of something they did. Business analysts work to improve certain business practices and processes and can usually see the positive impact that an effective new policy has on the organization, its employees and its clients. This can be a powerful motivational tool, as you get to see firsthand how many people benefit from your good work.
5. Collaboration across a wide spectrum
The job of a business analyst requires you to communicate and collaborate with colleagues from different departments within the organization. Many of your projects will affect a wide range of departments, so you're more likely to work with new people. This allows you to learn from a wide range of people and make new connections, which can make each workday more interesting.
6. Opportunities for growth
As a business analyst, there are always new ways to improve your company's practices and operations, meaning that you're regularly motivated to learn new things and improve as a professional. Keeping your organization up to date with the latest industry trends usually requires constant research, which can be motivation to hone your skills. This can have a positive effect on your career over time, as the knowledge and experience you accumulate can lead to a top management position.
7. Jobs in high demand
The rapid advance in technology means that the amount of data that organizations generate has significantly increased. This has made many companies more data-driven and more in need of professionals who can analyze and use the data for the organization's benefit. This has also increased the number of situations and contexts where the skills of a business analyst are highly in demand. Given that this trend isn't likely to change in the immediate future, becoming a business analyst means that your skills and expertise are likely to be in demand for a long time.
8. Helping others
The role of a business analyst is usually to solve complex business challenges. Success in this field might help a wide range of people. Depending on the exact issue you fix, you may help people working for your organization do their jobs in a more efficient and effective way. Besides the positive professional implications like helping colleagues perform their tasks more effectively and helping the organization generate larger profits, success as a business analyst can also improve people's personal lives by making their jobs easier.
Tips on becoming a business analyst
Consider these tips when deciding on becoming a business analyst:
Make sure you understand the role. Before attempting to become a business analyst, it may help to research the role and make sure it's an appropriate choice for you. Despite all the positives of the job, you may discover that you lack the right temperament and skills for it.

Learn the basic fundamentals of business analysis. Most business analysts have a bachelor's degree in a related field, such as finance, business administration or accounting, which gives them a basic understanding of business analysis. If you have an unrelated degree or are looking to make a mid-career transition, you can improve your odds of success by researching and learning the technical skills needed for a career as a business analyst.

Work on your project management and presentation skills. Presenting your analysis and conclusions to an organization's stakeholders and convincing them to implement your recommendations requires strong presentation and project management skills. Developing these competencies can significantly improve your chances of becoming a business analyst and being successful in the role.
I hope you find this article helpful.