Some professionals strive to have a greater impact on an organization by overseeing its management strategies and company-wide operations. If you have this career goal, consider pursuing a high-level executive position like a chief operating officer. Learning about the different types of COOs can help you develop the appropriate career plan and look for opportunities that align with your skills. In this article, we list eight types of COOs and describe their primary duties.
What is a COO?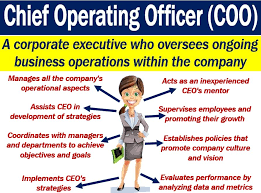 A COO, or a chief operating officer, is a top-level executive employee of a company. They're second-in-command and report to the chief executive officer. By collaborating with the CEO, a COO manages a company's daily operations and promotes the overall growth of the organization. Key responsibilities of this position include:
Implementing various business strategies

Developing policies to promote a positive company culture

Managing marketing, IT, and human resource teams across the organization

Setting performance goals

Organizing fundraising campaigns

Maintaining relationships with investors

Managing expansion opportunities like acquisitions and mergers
8 types of COOs
The role of a COO can vary depending on the company's needs and the individual's skills, experience and personality. Here are eight types of COOs you might evolve into:
1. The executor
A COO who takes on an executor role is primarily responsible for implementing the top management team's strategies. They also deliver results, with frequency depending on the organization's needs. For instance, an executor COO might report to the CEO daily if their industry requires the incorporation of constant feedback. Quarterly reports might be appropriate for a more predictable industry.
Executor COOs are particularly prominent in the operation-focused automotive and airline industries. You're also likely to find these professionals in competitive, constantly evolving markets like tech. Regardless of the industry, the goal of an executor COO is to focus on operational details and allow the CEO to focus on the company's long-term goals.
2. The change agent
Change agent COOs have a goal that's more specific than general strategy execution. Companies usually hire these professionals to solve a certain problem the organization is facing. For instance, a tech firm might hire a change agent COO to fix poor sales performances via an innovative marketing strategy. A change agent COO might also help the organization successfully expand its operations. These professionals might not receive much insight from the company on how to proceed, requiring them to use their creativity and analytical skills to develop the appropriate solution.
3. The mentor
Some companies have qualified yet relatively inexperienced professionals as CEOs. The idea behind this approach is to allow someone to grow with the company and develop a unique leadership strategy. If the company experiences unprecedented growth, the CEO might feel overwhelmed and be unsure of the right organizational adjustments.
Hiring a mentor COO can provide the CEO with the necessary guidance to succeed. A mentor COO has years of executive experience and might've even previously been a CEO. Rather than looking to achieve a higher position, mentor COOs serve as advisors to help newer CEOs succeed. These professionals typically possess lots of patience, humbleness and eagerness to promote innovation in their industries.
4. The MVP
When an executive spends several years at an organization, they become familiar with the internal processes and develop specialized skills. This expertise makes them one of the company's most valuable players (MVPs). being a valuable employee typically encourages the organization to want to retain them. One of the most effective retainment methods is awarding the employee a COO position. This promotional strategy also prevents high-level executives from seeking roles at competing organizations, ensuring the company remains a leading innovator in its industry.
5. The CEO foil
CEOs are usually well-rounded individuals with skills ranging from collaboration and communication to decisiveness. They also have a lot of expertise in their industry, but it's common for them to be more knowledgeable in certain areas than others. A COO can act as a foil by offering expertise in areas that aren't the CEO's specialty.
For instance, a COO might use their years of financial experience to provide investment advice and allow the CEO to focus on the organization's broader goals. A COO can also complement the CEO's personality to optimize the organization's leadership. For instance, they might provide a level-headed approach to decision-making that complements the CEO's aggressive strategies.
6. The partner COO
In most cases, the COO is second-in-command and reports to the CEO. This strategy is beneficial for many organizations, but some CEOs work more effectively with a partner. A COO partner shares many of their responsibilities with the CEO and fosters a collaborative relationship with them. The balanced authority can help them exchange ideas more effectively and promote the overall growth of the company. CEO and COO partnerships are usually metaphorical, but some organizations go as far as providing a joint office space that encourages the collaboration of these professionals.
7. The heir apparent
When a company wants someone to eventually become its CEO, it might promote them to a COO position first. The employee can use the opportunity to learn more about the company and get advice from other high-level executives. Once the company determines that the employee is the right fit, it can promote them to the CEO position.
8. The hybrid COO
The above seven types of COOs are informal titles, evolving based on the company's needs and the individual's skill set. It's common for a COO to adapt several of these traits to best meet their organization's goals. For instance, a COO might earn their title after demonstrating exceptional performance as a high-level executive. The organization might award them the position not only to keep them from working for a competitor but also to prepare them to eventually become the CEO.
I hope you find this article helpful.