Electrical engineers are professionals who work with currents and voltages to advance technology in their field. Many electrical engineers complete specialized master's programs where they learn systems design and electrical circuit theory. Understanding what a master's program in electrical engineering involves can help you decide if you want to pursue an advanced degree. In this article, we explain what a master's degree in electrical engineering is, discuss the prerequisites this degree requires, and provide descriptions of nine types of classes in an electrical engineering master's program.
What is a master's degree in electrical engineering?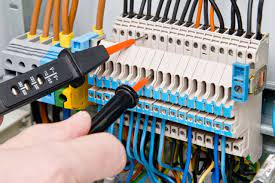 A master's degree in electrical engineering is an academic qualification that colleges and universities award to students who complete specialized programs. These master's programs teach students the principles of advanced science, math, and design to prepare them for careers as professional electrical engineers. Earning a master's degree usually shows that graduates have demonstrated their expertise in the field of electrical engineering. Professionals who hold master's degrees often have a high level of skills and techniques associated with electrical engineering. Students may study for one to five years to earn their master's degrees.
What are the prerequisites for a master's in electrical engineering?
The prerequisites for a master's program in electrical engineering may vary, depending on the specific university or college. Therefore, it's often beneficial to research the prerequisites for the school you're interested in attending before starting your application. Here are some common prerequisites that a college may require for an electrical engineering master's degree program:
A bachelor's degree
Most master's programs require applicants to have a bachelor's degree in a related subject. For example, many electrical engineering students have bachelor's degrees in a scientific, mathematical or engineering discipline. These undergraduate programs help provide students with the fundamental knowledge and skills required for a career in electrical engineering.
Professional experience
It may be helpful for applicants to have professional experience in the electrical engineering field when applying to master's degree programs. For example, a student might participate in an internship with an engineering firm or participate in a relevant research opportunity. This might improve a candidate's application and help them stand out from other aspiring graduate students.
Relevant skills
It's important to develop your technical skills before applying to a master's program in electrical engineering. This can help you succeed in your graduate courses as you work to earn your degree. Electrical engineering students often have a variety of relevant skills, such as:
Knowledge of computer programming

General information technology skills

Superior attention to detail

The ability to design and test electrical circuits

Familiarity with design software

Knowledge of health, safety, and environmental issues

Skills in communication and writing

Excellent data analysis skills

The ability to solve problems using specialist knowledge
Minimum GPA
Universities may require students to meet minimum grade point average (GPA) requirements for acceptance to a graduate program. Requirements can range from a 3.0 GPA to a 3.4 GPA. A school might consider applicants with GPAs under the requirement if they have significant experience or achievements.
9 types of classes in an electrical engineering master's program
The type of classes you take as an electrical engineering student typically depends on the specific master's program you're completing. Here are some common classes that you might encounter in an electrical engineering master's program:
1. Circuits
Circuits classes focus on the use of circuits in electronic devices. Students might learn how circuits work in microwaves, cars, and radio frequency remote controls. This can prepare electrical engineers to design devices that use electricity.
2. Computer engineering
Computer engineering classes teach students various methods for improving computer systems. They may learn how to make computers faster, more transportable, and more reliable. These classes might also focus on the design of computers and computer components. This is important for electrical engineers to have the ability to apply engineering design to produce solutions for computing purposes.
3. Photonics
Phonetics classes explore the transmission of photons. Students may research the emission, amplification, and manipulation of light. This can prepare electrical engineers to design electronic and photonic devices and systems.
4. Renewable energy systems
Courses in renewable energy systems focus on the principles of conversion systems that use renewable energy. Students might learn about hydrogen fuel, wind, photo-voltaic, and fuel cell energy conversation and storage systems. This helps electrical engineers manage the design and control issues associated with these systems.
5. Communications and networking
Communications and networking classes involve learning about the design and performance evaluation of communication systems and data networks. Students may familiarize themselves with various communications technologies, such as radios, antennas, satellites, and wireless devices. This allows electrical engineers to evaluate and improve approaches to the development of new and evolving networking techniques.
6. Wireless communications
Courses in wireless communications provide students with the key concepts, underlying principles, and practical applications of wireless and cellular communication technologies. Program participants may learn about the design, application, and research of wireless communication systems. This prepares electrical engineers to develop strategies for improving wireless communication.
7. Signal integrity
Signal integrity classes explore the fundamental concepts of digital signals, electrical noise, and system timing. Students can learn how to measure the quality of an electrical signal. This is important for electrical engineers to be able to evaluate and improve different electronic systems and devices.
8. Robotics fundamentals
Courses in robotics fundamentals teach students about modeling, design, planning, analysis, and control. Class participants may complete projects to gain practical experience with robotic systems. This helps electrical engineers manage power issues when creating robotic technologies.
9. Electromagnetic compatibility
Electromagnetic compatibility classes provide students with an introduction to design considerations and techniques that professionals use to ensure compatibility with electromagnetic systems. They might work with a variety of equipment items that use or respond to electromagnetic phenomena. This is important for electrical engineers to design technologies with the correct operations that prevent interference effects.
I hope you find this article helpful.