When a company evolves, the team you manage might develop with it. As you onboard new employees and continue overseeing current ones, you can strengthen your leadership style to succeed as a team. This makes it easier for employees to adapt to changes and allows you to continue strengthening the team as it develops.
In this article, we discuss the importance of and tips for successfully managing a growing team.
Why is it important to effectively manage a growing team?
It's important to effectively manage a growing team because it provides employees with the support, resources, and guidance necessary to still perform well as they evolve. A strong team leader might be responsible for strengthening the team's abilities and encouraging collaboration between all employees. As a team grows, it's important to ensure all employees have a clear direction and knowledge of their responsibilities to ensure they remain productive and submit quality work.
9 tips for managing a growing team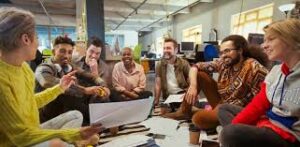 Use these tips to effectively manage a growing team:
1. Establish a clear onboarding process
As you hire new employees, you can help them feel more comfortable and knowledgeable by developing and following a routine onboarding process. Your process can consist of new hires meeting current employees and acclimating them to their tasks and environment. Try to set up a consistent onboarding process that allows new employees to complete their training in a productive and efficient manner. This increases the chances that all new hires undergo the same training at similar paces without affecting the department's overall workflow.
2. Share roles and responsibilities
With additional employees joining the team, it can be important to define the job duties they're all responsible for completing. Create job descriptions for each team member that describe what the company expects of them, the exact duties they're in charge of, personal quotas to meet, and deadlines for their tasks. Completing an ongoing schedule each month with upcoming deadlines can keep employees actively accessing their progress.
You can distribute these responsibilities to both the new hire and current employees. This ensures everyone remains informed of who holds which job so that they understand who to contact for certain questions or comments regarding certain projects.
3. Host meetings regularly
Try to keep all employees updated on current changes by conducting regular meetings, whether in person, online, or both. This can also build trust and communication between employees by allowing them to discuss projects or brainstorm ideas together. When you host meetings, try to encourage others to share their ideas and input on various topics. You can also schedule the meetings in advance and remind everyone that they can share their progress during the meeting.
You can also monitor the meetings to ensure all team members remain polite, professional, and respectful of one another. This helps employees feel more comfortable and confident when expressing thoughts or ideas and when collaborating on projects.
4. Assign mentors to new hires
To help your team feel more comfortable around each other and to make new employees adapt quicker to the work environment, consider pairing experienced employees with new ones. New hires can go to these employees with questions about the company, the department, or their individual tasks. Consider instructing these employees to direct new hires to you for any complex or high-level questions, which may make the new hires feel more comfortable. This frees you to handle your responsibilities and allows the employees to collaborate more closely. This also helps experienced team members develop their leadership skills.
5. Request and apply feedback
To ensure your team is benefiting from the processes you put in place as the team grows, consider asking them for feedback. Request input on how your team believes you're performing as a manager and ask if they have any suggestions to make the onboarding process smoother. This gives them the opportunity to request any additional support or resources from you to ensure they remain informed and knowledgeable enough to submit quality work.
Your feedback can also make the employee know their input is valuable. You can conduct one-on-one meetings to listen to each employee's thoughts or give them the option to submit requests anonymously.
6. Communicate the purpose of your department
Providing a clear purpose and mission for employees to work toward can make them feel motivated to submit valuable work. Try to regularly communicate the goals of your department, especially when assigning projects to employees. You can explain how their individual efforts contribute to the success of the entire company. This can provide meaning to employees and help them understand how their work ethic and attitude impact the core values of the company.
7. Recognize and praise team members
You can make your employees feel more appreciated for their hard work by regularly offering words of encouragement and recognition. Consider doing this informally through emails, text messages, or personal conversations. As your team grows and the demand for more quality assignments increases as well, you can motivate your employees by rewarding them for their impressive work. Implement activities like providing free lunches or gift cards to employees who exceed monthly quotas.
You can also make announcements in person during a team meeting or via email that congratulate employees who perform well. This motivates employees to continue submitting quality assignments and encourages other employees to celebrate each other's accomplishments.
8. Maintain effective communication
Remaining open and transparent with all employees can make everyone feel involved and knowledgeable at all times, which might decrease any confusion about assignments or updates, resulting in more productive workflows and fewer errors. Consider adopting new technology tools like project management or task management programs. These display your department's current projects, the tasks involved, the employees assigned to them, and the deadlines of each. You can also implement business communication tools that allow employees to contact you and other employees regularly.
9. Remain flexible and open to change
Since your team is regularly growing, there may be several instances where your department undergoes different types of change. Try to remain flexible by implementing procedures and strategies that make it easier for yourself and the team to adapt to the change.
Demonstrate your willingness to handle and resolve unexpected challenges by being positive and using your problem-solving abilities. Seeing how flexible and willing to adjust your schedule and methods accordingly can encourage other employees to do the same. Remember that you're a role model for your team, and they'll be looking to learn from you and grow professionally.
I hope you find this article helpful.