ATTESTATION LETTER: The Importance of an Affidavit or letter of attestation to your academic or career can never be overemphasized. You will always need people to stand for you inasmuch as you will have to stand for them.
Also, organizations require you to swear an affidavit of good conduct or non-membership of a secret court before you are admitted. In almost all cases, an affidavit will need to be signed in a recognized court of law.
To list but a few, the following are areas where you will be required to submit a letter of attestation or a sworn affidavit.
During University admission screening,
Nigeria  AirForce and Navy,
The  Army,  Police,  Immigration,  Nigeria  Customs  Service,  EFCC Recruitment
Now that you know what an affidavit or letter of attestation is, another question comes to mind; how do I write a letter of attestation? This question is not as difficult as you think.
The first time I actually got to know about affidavit was during the University Of Benin's (UNIBEN) physical clearance. I wrote mine and it was accepted. Do you want to know how I did it? Continue reading for a sample attestation letter and how to write your own….
Affidavit Of Good Conduct:
In this letter, you declare that you are of good conduct and a non-membership of any occult or secret society. Besides, no company wants to employ anyone who is not well behaved.
How To Write Affidavit Of Good Conduct…..
See A Sample Below…..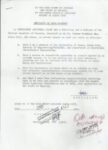 Attestation Letter:
Here, you writing a letter, stating that you know someone and that the person should be given the opportunity to show his worth. All you have to do is give reasons why the person should be accepted for the position or job.
How To Write Letter Of Attestation Of Good Conduct….
See A Sample Below…..
Dear Sir.

Letter Of Attestation Of Good Character

I am writing to attest to the ability of the under-listed to serve as an officer in the Nigeria AIRFORCE, NAVY, ARMY, POLICE and IMMIGRATION. Name: John Mikel Yemi Mahmoud Reference Number: 181…./DSSC 2017.

I have known John Mikel Yemi Mahmoud for many years in my capacity as a guarding and mentor, and I can say he/she is of good moral character

Yemi Mahmoud is a natural leader, but more importantly than that, he also knows how to follow an order. He recognizes the value of deferring to a superior. An officer needs to possess the ability to both lead and follow, and John has just that.

He/She is a friendly, easy-going man who understands the value of a hard day's work, and knows the importance of keeping the military running smoothly. He/She wants to be a part of the system, and i believe the system will benefit greatly from his participation.

Above all, say this: I believe strongly in Mikel Yemi Mahmoud potential in the Air Force, Navy, Army, Police or immigration, so I hope you will accept his/her application for commission.

In conclusion: Please accept the assurance of my high regards and consideration.

Sign – Sign your signature here

Name – Write your full name here Rank: Senior Officer of Nigeria Custom, police, Min. of Education, Director etc Phone No.: +23470xxxxxxxxxxx
See Also: Five helpers you must meet to succeed