Studying in a foreign country can come with a lot of issues like having money to run around when school is in session. It might seem a like a mountain to get a job in a country like Canada, but knowing the kind of jobs to look for makes it easy.
In this blog post, we are going to be talking about the best high-paying part-time jobs for international students in Canada.
5 Best High Paying Part-Time Jobs for International Students in Canada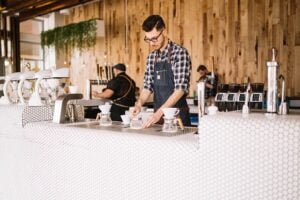 Here are the best high paying part-time jobs for international students in Canada:
1.      Server/Bartender
As long as you can speak English language, this is a perfect job for you as an international student in Canada. You get attend to attend to customers in bars, or restaurants.
The average pay of this job is about CA$ 13 per hour. This excludes what you will receive as tips from people who you attend to.
This will increase and sharpen your customer relation and communication skills. Also, it comes with flexibility as you won't have to work round the clock.
2.      Sales Assistant
As a sales assistant, you work in establishments that have products to sell, and assist in the sales. You get commissions on every sales made.
You need great communication and human relation skills to excel at this job. It may not be advisable to learn on the job.
The average pay sales assistants get in Canada is about CA$14 per hour.
3.      Tutoring
Are you great at teaching people? And there are courses you are great at on campus? You can just offer to help people who need help with those courses for money.
So, you are getting money, in exchange for the value of teaching people what they need to know.
You need to know how to teach to do well at this. This can earn you CAS16 per hour.
4.      Uber Driver/ Delivery driver
If you have a bike, you can consider working with logistics company to deliver goods to people. Don't worry. You don't have to know your way around your region in Canada so well. You have your Google map to help you always. You can earn CA$19 averagely.
If you have a car, you can work with Uber and drive people with your cars in exchange of money. It is a decent job that can earn you between CA$17 to CA$22.
The job offers you flexibility, as you can work when you desire to work. It won't clash with your classes. The only hurdle is having your own bike or car.
5.      Teachers' Assistants
This is an on-campus job where you get to assist lecturers in whatever they have to do. You may have to help with lecturing, writing notes, etc.
The work is pretty more comfortable than many others, as you won't have to leave the University campus.
Eligibility Criteria for On-Campus and Off-Campus Jobs for International Students in Canada
There are two types of jobs for international students. They are on-campus and off-campus jobs. For these two kinds of job, the requirement is a little different
Here are the criteria for on-campus jobs for international students in Canada
Study permit
Social Insurance Number
You must be a full time student
Here are the criteria for off-campus jobs for international students in Canada
You must be studying at least a 6 month degree or diploma
Social Insurance Number
Study permit
You must have started the program before you start working
Study in a designated learning institution in a full time course
You must be at least 18 years old, and 21 years old if you are in British Columbia, Quebec, and Nova Scotia
Benefits of Having a Part Time Job as an International Student
Even though, you won't be having so much free time because you now have a job(s), there are benefits attached to it in the end.
1. Support
You can support your parents in paying your school fees with the money you earn from the jobs you work. This will ease your parents, especially if you came from a developing country to study abroad, and you are not on scholarship.
You will not be stranded when you need money in school, if you have money coming in for you. If you need to get groceries, food, pay for rent, etc. the money could easily be useful for that.
2. Savings
One cannot save too much. Having a job will make it easy for you to have savings. You can end up using your savings for things that greatly benefit you.
3. Experience and skills
Besides that you can add the experiences to your CV, you get real life experience on how to deal with people, and relating with people, depending on the kind of job you do, as an international students.
There are a lot of skills you can build working as an international student in Canada. They include communication skills, human relation skills, etc.
Conclusion
I hope you find the best high paying part time jobs you can do as an international student in Canada in the blog post.