The renowned Federal University of Lafia (FULAFIA), based in Nasarawa State, Nigeria, extends an invitation to prospective students seeking prestigious part-time programs. FULAFIA, through its Centre for Continuing Education and Professional Development (CCEPD), proudly announces the commencement of its part-time degree programs for the 2023/2024 academic session.
FULAFIA Part -Time Degree Admission Form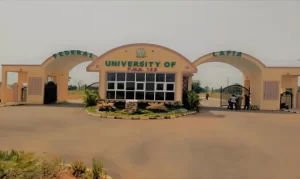 | | |
| --- | --- |
| University 🏛️ | Federal University of Lafia |
| Program 📚 | Part-time degree courses for 2023/2024 |
| Application Fees 💸 | ₦3,500 (JAMB), ₦12,000 (CCEPD) |
| Courses 📖 | Faculties of Arts, Computing, Education, Management Science, and Social Science |
| Entry Qualifications 🎓 | O/Level credits, IJMB, ND, NCE, HND or Degree |
| Program Duration ⏳ | 12 semesters (Part One), 10 semesters (Part Two), 4 semesters (Conversion) |
| Application Window 📅 | Oct 16, 2023 – Nov 27, 2023 |
| inquiries 📞 | Centre for Continuing Education & Professional Development |
Diverse Academic Offerings
FULAFIA showcases an array of part-time degree courses designed to cater to a broad spectrum of academic interests. Prospective students can delve into the following faculties:
1. Faculty of Arts
B.A. English and Literary Studies
B.A. History and International Studies
2. Faculty of Computing
3. Faculty of Education
B.LIS Library & Information Science
4. Faculty of Management Science
B.Sc. Business Administration
5. Faculty of Social Science
B.Sc. Economics
B.Sc. Political Science
B.Sc. Sociology
B.Sc. Social Work
Embarking on the Admission Process
Mode of Application:
Aspirants for the FULAFIA part-time program should initially apply for admission via JAMB.
After the JAMB registration, candidates should then process their admission on the official CCEPD portal: ccepd.fulafia.edu.ng
Payment for the application process is facilitated through the REMITA platform. Fees include:

JAMB application fee: ₦3,500
CCEPD online admission processing fee: ₦12,000
Eligibility and Entry Requirements
To be considered, candidates must meet specific academic qualifications:
Part One (100 Level) applicants: Must have a minimum of five O/Level credit passes, which should include both English and Mathematics.
Part Two (200 Level) applicants: Qualifications can range from IJMB, National Diploma (ND), National Certificate of Education (NCE), to a diploma from a recognised institution. Additionally, O/Level requirements from Part One must be met.
Conversion program applicants: A Higher National Diploma (HND) or a degree from a recognized university, including O/Level requirements from Part One, is mandatory.
Duration and Structure of Programs
Part One: Spans a duration of twelve semesters.
Part Two: Encompasses ten semesters.
Conversion Program: Is structured over four semesters.
Important Note: The CCEPD online portal will be accessible from Monday, October 16, 2023, until Friday, November 27, 2023, for admission processing. For further inquiries, candidates are encouraged to visit the Centre for Continuing Education & Professional Development (CCEPD) at the Federal University of Lafia Take-off Site, Akunza, Lafia.
Why Choose FULAFIA's Part-Time Programs?
Choosing to embark on a part-time program at Federal University of Lafia ensures:
Flexibility: Suitable for individuals who are juggling work, family commitments, or other studies.
Prestige: Attaining a degree from a well-recognized institution like FULAFIA can bolster one's academic and professional credentials.
Wide Range of Courses: With an array of courses from various faculties, students can choose a field of study that best aligns with their passion and career aspirations.
Expert Faculty: FULAFIA boasts a team of dedicated and experienced lecturers committed to imparting knowledge and guiding students throughout their academic journey.
In summary, the Federal University of Lafia continues to set the bar high in academic excellence. Their introduction of part-time degree programs further reinforces their dedication to inclusive education, ensuring that even more students can access quality higher education. As the admission process commences, prospective students are urged to seize this golden opportunity, aligning themselves with an institution that promises not just a degree, but a transformative educational experience.
I hope you find this article helpful.