The Flashlearners NCEE App is the Best Application to Prepare and Pass the 2021 National Common Entrance (NCEE). It features Thousands of Questions offline, the Option to choose exam year, Topics and number of Questions to Answer.
There are many more features you will enjoy with the Flashlearners Application for NCEE. The good news is that you can Install And Test the App for Free. Activate if you're really impressed with the NCEE App.
DOWNLOAD OPTIONS

A. Click To Install On Your Phone
B. Download For Laptops And Desktops
RECOMMENDED

1. Flashlearners Waec App 
2. Make Money Selling Apps
Flashlearners NCEE Videos
Reasons To Get Flashlearners NCEE App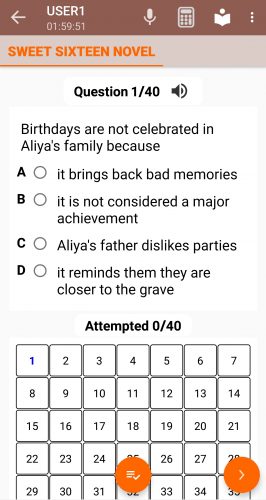 Contains Over 3,800 Questions Offline – You can practice authentic NCEE past questions from 2000 up to date with explanations.
You can practice all four subjects (English and Social Studies, Mathematics and General Science, Quantitative and Vocational, and Verbal) at a time.
Well-drawn quantitative shapes – quantitative diagrams are very clear and properly drawn.
Use the inbuilt Dictionary to get the definition of words with 92,000+ words offline.
Offline Chatbot – chat with Clara to find answers to most requests using our custom-built Chatbot technology with amazing artificial intelligence
NCEE Challenge – compete with your peers to win airtime.
Play Educational Games, have fun while learning with our fascinating games
Does Not Expire – continues to function as long as your computer stays alive!
No Subscription Fee – once activated, forever activated for all subjects!
Practice one or more subjects at once – you can practice any number of subjects at a time.
Built-In Calculator – use the built-in calculator to crunch numbers without leaving the exam interface.
Rich Result Analysis – get a detailed analysis of how you perform on any exam.
Bookmarks – bookmark any question that you wish to view later.
Easily change the number of questions, exam year, exam time, exam mode and username.
Recommended: Common Entrance Form and Exam
Hope you found this helpful? Feel free to share with others using the share buttons and don't fail to let me know how you feel using the comment box.