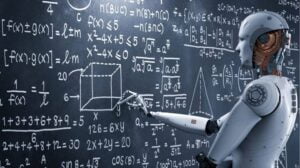 There is nothing Artificial Intelligence (AI) will not do. "Artificial Intelligence is creating a world without choice".
AI in education will disrupt certain parameters and take the learning process to a complete height of no return.
Notably, around the world, people are beginning to be AI Focus. Professionals and consumers alike are utilizing smart solutions.
IOTs (Internet of Things) machine learning (ML), deep learning (DL), and robotics technology are being utilized to simplify tasks and gain speed both at work and home.
Industry trends and patterns constantly evolve around technology. People lingering are now adapting to Artificial Intelligence, especially in education.
What this means, is that schools and higher institutions yet to align will do so sooner or later. Such that artificial intelligence will be incorporated in classrooms, laboratories, exams, and homework, to mention but a few.
Visionaries in the educational sector already dream of a world where digital agents will enhance the role of teachers. Learning will take a new shape and everyone will come to accept a new world of advanced technology pioneered by AI.
Gabor Melli, VP of Artificial Intelligence at Medable and former senior director of engineering at Sony PlayStation hopes that by 2030 "most of humanity will have ready access to health care and education through digital agents."
In this article, we will reveal how artificial intelligence is changing the educational sector. Keep reading to get all the details.
What is Artificial Intelligence?
Artificial Intelligence is a branch of computer science that develops computers and machines to exhibit human character such as reasoning, perception, memorizing, movement, and other processes to complete a task.
It is a broad term that factors in other technologies like machine learning, expert systems, robotics, natural language processing, fuzzy logic, etc.
Machine Learning, a popular AI attribute can learn and improve itself over time by engaging with large and multilayered data. Experts use ML-assisted technologies to develop educational software, gadgets, and other smart learning aids.
What Are The Benefits of Artificial Intelligence In Education?
Gone are the days when learning was stereotyped. Things are changing even the use of the library has changed. If you are not incorporating AI then you are missing out.
The following are the benefits of artificial Intelligence in learning and education.
Customized learning programs for individual students.
Producing smart content for school and home study
Task automation process that saves time and labor
24/7 availability of learning aids with instant feedback
Ensuring access to education without boundaries or borders
Access to virtual and remote learning
Quality data and information solutions for modern education
Error-free data and record keeping
Maintaining an ethical and transparent educational system
Bridging the technology gap between tutors and students
Makes learning effective and enjoyable.
7 Ways Artificial Intelligence is Disrupting Education
Artificial Intelligence has the power to optimize both learning and teaching, improving education reception and experience for students and teachers alike.
The following are ways AI is transforming education, thereby disrupting the conventional style of teaching and learning experience.
1. Personalized Learning 
Students learn differently, some learn faster than others. Nothing could have changed except for artificial intelligence.
AI assists tutors to personalize programs to meet individual needs, and goals and close the learning gap amongst students.
2. Automation
Schoolwork involves repetitive, tedious, and time consuming tasks. From school admissions to record keeping, multiple choice tests, grading of exams, and so on. The workload involves a lot of time and stress.
With the use of Artificial Intelligence, these tasks can be automated. Teachers and school staff speed up time, gain productivity and save energy for other responsibilities as required.
3. Smart Content Creation
Content need not be boring. Experts now use machine learning powered technologies to create innovative content to improve teaching and learning.
Learning materials are better informative, interactive, and convenient.
The use of AI helps smart content creation like 2D -3D visualize web-based environments, app development, interactive learning aids, and up-to-date user study materials.
4. AI Chatbots
Students can now learn 24*7. The demand for self-service, student assistance, and virtual learning is no longer a challenge in response to disease outbreaks and pandemics
AI chatbots are widely accepted across cities and nations. AI chatbots deliver 24*7 assisted learning and can engage students to learn and understand topics.
It provides user friendliness and students get instant feedback. It can also engage multiple students at once.
5. Accessibility
AI has also introduced adaptive access to education across tribes and nations. Learning information is now made available to a global audience.
Virtual lessons can get timely subtitles with AI-assisted converter tools. Visual and hearing-impaired audiences can also access learning at various levels.
6. AI-Powered Examinations
AI-based software and application solutions help examiners and supervisors detect suspicious behavior during examinations.
These programs perform keystrokes with the use of web cameras, web browsers, and microphones to track individuals participating in an interview or exam.
This AI technology is most effective for online examination solutions. Professionals in the education business, online and offline can achieve zero exam malpractice with AI programs.
7. AI Data-Based Feedback
Communication generally requires quality feedback. In learning, tutors appreciate feedback a lot to determine the success of their lesson.
Artificial Intelligence in education helps instructors to analyze and improve their work reports based on data-based feedback.
With AI, feedback is customized according to every student's analysis. Consequently, the instructor will optimize their lesson with no bias, and the student will gain satisfaction.
Challenges Of Artificial Intelligence To Education
The truth is that AI-powered solutions have been around for a while. While many industries are deep into the realities, it seems the education sector is slow to adapt to AI-assisted programs.
This results from the need to keep things at bay. Probably, concerned bodies and regulators have been trying to analyze the effect Artificial intelligence will do on education.
However, we could suggest lack of knowledge, uncertainty, and budget constraints pose common challenges of artificial intelligence in education.