Ordering any item on Jumia by yourself is as easy as ABC. In this article, I will give you all the necessary guidance you need to buy products on Jumia Nigeria.
This page covers how to create Jumia Account, placing orders on Jumia, how long it takes Jumia to ship items, frequently asked questions and more.
There are over 6 Million Items on Jumia across 13 Countries. There are over 50,000 Brands and 10,000 active sellers on Jumia. Now, you don't need to bother whether Jumia is a scam or not. Jumia is a very real Platform to buy things Online.
Your device is not a barrier. You can visit and place orders on Jumia using a Phone, Tablet or Laptop. But before you start buying on Jumia, you will need to create an account with them. No need to create a new Jumia account if you already have one.
How To Create A Jumia Account
Recommended: Best cheap android phones to order on Jumia
How To Place Orders On Jumia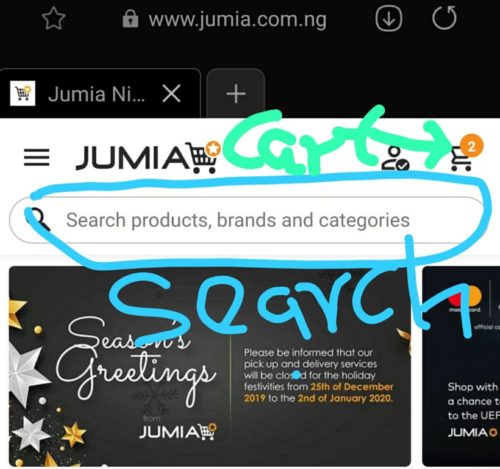 Visit Jumia Website (Jumia.com.ng)
Locate the Search Box as shown above.
Search Products Using the Search Box. Search Phone to see all the phones on Jumia, if you are sure about the phone you want, then search the phone name and brand. This also applies to other Jumia products.
Click on any Product of Your Choice to See everything you need to know.
You will find ADD TO CART under every product. Add any item you want to buy to cart, e.g phones, bags, clothes, Laptops, air conditioners, milk, Indomie, rice, etc
As you add items to CART, the number of items in your CART will increase (In the diagram above, there are two items on the Cart).
After adding items you wish to buy, click on CART to confirm if they are the stuff you really want to order. You can simply click remove to take any item you don't want away.
PROCEED TO CHECKOUT if you are cool with the items on your CART.
At Checkout, you will be required to enter your delivery address, delivery method (your home or Jumia office), proceed to the payment method (Pay on delivery, JumiaPay or pay with interswitch using your ATM Card),
Click on CONFIRM Order if you have cross-checked.
Done, you have successfully placed an order.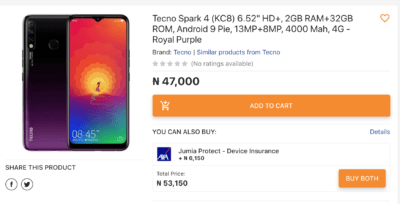 Recommended: Things to note before buying laptops on Jumia
FAQ About Jumia Orders
Frequently Asked Questions About Placing Orders on Jumia…
1. Are There Fake Products On Jumia? Generally, Jumia products are okay. But there are few substandard products too. However, you are not forced to buy them. But because you like cheap things, it will end up "killing you".
For example, you want to order iPhone 11 for #10,000. People order phones of #20,000 on Jumia and expect it to be better than Samsung Galaxy S10 Plus; it doesn't work like that. Use your brain to compare what you are buying with the amount you are willing to pay.
2. What is Jumia Express? They are Products that are stored in the Jumia Warehouse which ensures they are shipped quicker.
3. Can someone collect items on my behalf? Yes, so long the person is able to provide a valid proof that you asked him to collect the product on your behalf.
4. How do I cancel orders on Jumia? You can cancel orders on Jumia by calling customer care or filling Jumia contact form. You will see the Jumia customer care number and contact form in a link below.
5. Does Jumia ship items for free? As per Jumia shipping fee policy, you can enjoy free shipping for certain items under promotion. You will have to pay shipping fees based on your location.
Why You Should Buy On Jumia
The Reasons you should buy stuff on Jumia are:
1. Varieties of Products: This is one reason I love Jumia. On Jumia, you have access to a whole lot of products and services. You have more than enough to choose from.
2. Discounts: Sometimes, Jumia offers genuine discounts. I have bought products from Jumia and compared to the one sold offline. Sometimes, Jumia products are cheaper.
3. It Is Convenient and Jumia has Good Customer Service. With a few clicks, you have successfully ordered big products and it will be delivered to you (no stress).
Reasons You Should Not Buy On Jumia
The Reasons You Shouldn't Buy Stuff On Jumia Nigeria are:
1. Slow Delivery: If you need your item within two days, Jumia may not be the best option for you. It is possible to get items delivered to you in Lagos within two days (more than two days some times), however, delivery in other states takes 4 to 7 days).
2. Audio Discounts: As I said above, there are a whole lot of cheap items on Jumia compared to the ones in stores at home. However, some Jumia discounts are not real. Jumia will show that the item has been slashed by 20%. After buying, you will discover that it is still the same price as the ones sold at home or even more expensive than the one your friend bought months ago.
3. Shipping Fee: For phones and other light items, Jumia shipping fee is okay. But for heavier items, the shipping fee is outrageous. It is enough to ship from your area and still have change to cook soup. If you are okay with the shipping fee and item price, go ahead.
How Long It Takes For Jumia To Deliver

Note:
The above delivery timelines are for Orders placed before 2 pm. Order placement after 2 pm is +1 day added to the delivery timelines
For delivery of large items to Port Harcourt, please use timelines quoted for "Other Cities".
The timelines quoted are business days – Monday to Friday only, excluding weekends. They vary depending on the delivery option chosen:
SEE Best laptops to order on Jumia
Types of Delivery on Jumia (Door Vs Pickup)
Door Delivery: Delivery time starts from the day you place your order to the day one of our delivery associates makes the first attempt to deliver to you. Delivery will be attempted 3 times over 5 days (7.00 am to 5.30 pm) after which the item will be cancelled.
Pick Up Station: Delivery time starts from the day you place your order to when you receive the first SMS to pick up your order from our pickup station.
Types of Shipping On Jumia
A. Standard Shipping: Products are held in stock with sellers and shipped once received at our warehouse.
B. Shipped from Overseas: Products are shipped from overseas.
C. Economy Postal Shipping: Economy Postal Shipping is a new economical shipping service for Jumia Global items, delivered through local postal service providers.
How To Return Items To Jumia
Jumia accepts returns within 7 days of placing the Order. Return is free and you will be fully refunded. If you are not satisfied with the item you got from Jumia or for reasons best known to you, you may want to return the item(s) you ordered to Jumia. These are the steps to follow if you will to return items to Jumia:
1. Initiate A Return
Fill
this form
, or Jumia on 01 888 1100 if you have any questions. You can initiate a return if you change your mind or if you receive wrong, damaged, defective or counterfeit items.
2. Get The Product Ready
Place the item in its original packaging, including any accessories, tags, labels or freebies.
3. Give The Item to Jumia Driver
Return the item at Jumia pickup stations or wait for them to pick it up from you within 1-3 business days. Always ensure your return slip is signed by our agents as your proof of return.
4. Your Money Will Be Refunded
Once we receive your returned item, we will inspect it and process your refund within 10 business days via voucher or bank transfer depending on your selected option.