Jamb Caps Activation And Admission List For 2019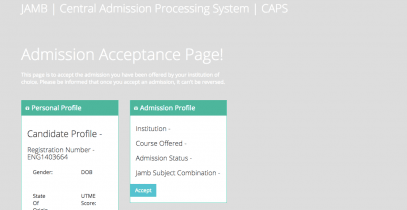 Has Jamb Caps started giving admission for 2019? Jamb Has not Started Admitting ~Jamb Caps 2019 will be Activated very soon. I predict that jamb will start giving admission by August.
You can majestically proceed to check your jamb admission status for this year immediately it is updated.
What if it shows not admitted? It is not the end of your admission. Jamb just started giving admission and it is going to continue throughout this year. You best bet is to keep checking your admission status.
The following are other things you need to know about Jamb caps admission:
1. Once a candidate has been offered admission, such candidate is required to do either of two things; to accept the admission or to reject it.
2. Once you accept the admission, your admission quest is over as you will no longer be available for other schools' admission consideration.
3. On the other hand, if you reject the admission, you become available to other schools who have free admission slots for admission consideration.
4. It is important to note also that candidates who have been offered admission on JAMB CAPS are to equally print their admission letter after accepting the admission, as they will likely need this during clearance and registration in the school that they have been admitted.
5. Jamb official website is www.jamb.org.ng. I therefore advise candidates to closely monitor their admission status on JAMB CAPS so as to do the needful as soon as possible.
What If My School Has Not Released Admission List Yet?
Some schools may not even publish list of admitted candidates on their own portal or notice board. So for candidates that applied for admission in such schools, the only way to know when they have been offered admission is to check their admission status on JAMB CAPS.
Important Links
Feel free to share this article with your friends and don't fail to drop your comment below…