The esteemed administration of Kwara State University (KWASU), Malete, issues this crucial public service announcement in light of recent discoveries of impersonation and fraudulent practices surrounding the university's admission process. It has come to the management's notice that various individuals and websites are falsely representing the institution, with endeavours to extract payments from unwitting prospective candidates under the pretence of assisting in the admission procedures.
KWASU Disclaimer Notice on Admission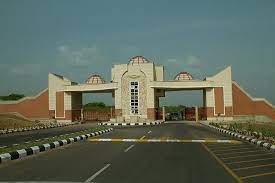 | | |
| --- | --- |
| Alert! 🚨 | Impersonation of KWASU, Malete by unauthorized persons and sites. |
| Warning ⚠️ | Transactions with impersonators are risky. |
| Authentic Site ✅ | All payments should be made through the official University portal. |
| Risky Payments 💸 | Any payment done outside the official platform is at the payer's risk. |
| Official Admission 🎓 | Prospective candidates should use individual portals for legitimate admission processes. |
| Avoidance 🛑 | Avoid unnecessary risks by adhering to the official admission process. |
| Caution! 📢 | The public is warned against fraudulent transactions. |
| Management Notice 📌 | Management of KWASU, Malete issues a warning against counterfeit admission processes. |
Risks Associated with Unverified Transactions
This proclamation serves as a stern warning to the public and prospective students that engaging with these unauthorized entities and sites is fraught with risks. Such dealings are not sanctioned by Kwara State University, Malete, and any transaction or interaction with them is purely at the individual's peril. It is imperative to exercise utmost caution to avoid falling prey to such malicious and deceptive practices.
RECOMMENDED: NAFCONS POST-UTME FORM
Official Payment Procedures
For absolute clarity and to eschew any doubts, all remittances pertaining to Kwara State University, Malete, are strictly conducted via the University's official portal. Every applicant can securely access this platform through their individual portals located on portal.kwasu.edu.ng. It is pivotal to note that any financial dealings occurring outside the bounds of this authentic platform are undertaken at the payer's risk.
Once more, we strenuously stress the significance of adherence to the officially prescribed payment channels. The potential consequences of disregarding this advisory can be severe, and it is the individual's responsibility to validate the legitimacy of the platforms they engage with.
In summary, the institution remains committed to upholding the highest standards of integrity and transparency in all its operations and interactions. By staying informed and vigilant, we can collectively thwart the attempts of these malicious actors intending to compromise the integrity and reputation of Kwara State University, Malete.