In a move that echoes its commitment to providing quality health education, the prestigious Osun State College of Health Technology, Ilesa has rolled out its second batch of admission forms for the upcoming 2023/2024 academic term.
Osun State College Of Health Tech. Ilesa Entrance Exams 2023/2024
| | |
| --- | --- |
| 🏫 Institution: | Osun State College of Health Technology, Ilesa |
| 📅 Session: | 2nd round admission for 2023/2024 |
| 📚 Courses: | Various across departments e.g., HND Environmental Health Technology, Dental Therapy, Pharmacy Technician |
| 📜 General Requirements: | Age flexibility, good health & character, no criminal tendencies, adherence to rules, successful entrance exam & interview |
| 🚫 Warning: | Forged certificates lead to expulsion & police report. Limited course spots are available. |
| 👔 Uniforms: | Mandatory for students |
| 🌐 Apply Online: | College Website – Application Portal |
| 📆 Exam Date: | 14th September, 2023 |
Courses on Offer at Osun State College of Health Technology, Ilesa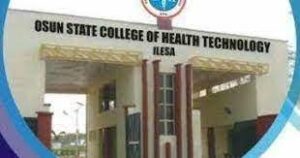 The College boasts a rich array of courses tailored to meet the ever-evolving demands of the health sector:
Department of Environmental Health:
HND Environmental Health Technology
Environmental Health Technician (Diploma)
Health Education and Promotion (Certificate)
Department of Community Health:
Community Health Extension Worker (C.H.E.W)
Junior Community Health Extension Worker (J.C.H.E.W)
Department of Health Information Management:
Professional Diploma (PD)
National Diploma (ND)
Department of Dental Health:
Dental Therapy
Dental Surgery Technician
Department of Pharmaceutical Studies:
Department of Medical Laboratory Sciences:
Medical Laboratory Technician
Department of General Health Studies:
General Health Technician
Health Assistant
General Admission Criteria
Applicants to this esteemed institution are expected to exhibit:
No age limitations provided they fulfill the fundamental entry qualifications.
Comprehensive well-being across various dimensions such as physical, mental, social, spiritual, cultural, and moral.
A strong aptitude for learning combined with impeccable citizenship and unquestionable character.
Adherence to the College's rules, showcasing maturity and discipline.
A score above the College's stipulated cut-off mark for their chosen course through both the entrance examination and interview.
A Word to the Wise: It's pertinent to note, that besides these general requirements, there are additional criteria specific to individual courses. Furthermore, the College has a strict dress code involving uniforms. Any student found possessing a fake certificate will face immediate expulsion, with legal action pursued. Remember, each course has limited slots available, so act promptly!
Diving Deeper: Specific Entry Requirements
Environmental Health Department:
For a more in-depth understanding, consider the HND Environmental Health Technology, which spans 4 years. Applicants require five credit level passes in subjects such as English, Mathematics, Biology/Health Science, Chemistry, and Physics from recognized boards like NECO/SSCE.
Community Health Department:
Aspiring Community Health Extension Workers need 5 credit level passes in key subjects, ensuring they're adequately equipped for the 3-year journey.
Health Information Management Department:
This department mandates 5 Credit level passes in key subjects such as English Language, Mathematics, Biology/Health Science, Physics, and Chemistry.
Pharmaceutical Studies Department:
Budding Pharmacy Technicians need to ensure their certificates don't exceed 5 years before enrolling with the Pharmaceutical Council of Nigeria.
READ ALSO: NIGERIAN BRITISH UNIVERSITY (NBU) POST-UTME FORM
Medical Laboratory Sciences Department:
For Medical Laboratory Technician courses, certificates shouldn't be older than 5 years at enrolment time with the Medical Laboratory Science Council of Nigeria.
General Health Studies Department:
For the General Health Technician course, 5 credit passes from boards like GCE/WAEC/SSCE/NECO are mandatory.
Application Steps for The Eager Beavers
For those eager to embark on this transformative journey, here's a straightforward application process:
Navigate to the official College website
Opt for the "APPLY NOW" option and proceed to fill out the online application form.
A Gentle Reminder: The deadline for the second batch's application submission remains undisclosed as of now. However, applicants should mark 14th September 2023 in their diaries, as it's the scheduled date for the second batch entrance examination.
Seize this golden opportunity and take a step towards a brighter future with Osun State College of Health Technology, Ilesa. I hope you find this article helpful.