Pan-Atlantic University (PAU) Scholarship / Tuition Fee Aid 2023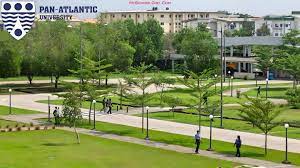 At Pan-Atlantic University (PAU), we are deeply committed to fostering tomorrow's leaders by providing world-class education and a lifetime network of support. Our curriculum, designed to span over four years, is a conduit to success, paving the way for our students to realize their dreams. Our community of successful alumni further extends a plethora of career opportunities, enabling you to build and nurture relationships that last a lifetime.
Application is currently available for suitably qualified candidates to apply for Pan-Atlantic University (PAU) scholarship 2023 intake in Lagos Nigeria.
Currently, the University is now accepting applications from eligible candidates for its Full Tuition Fee Aid program targeted toward Undergraduate students in the county.
Financial Aid Options at PAU
Understanding that financial constraints can often be a hurdle to quality education, PAU has designed a range of financial aid possibilities. Our offerings encompass tuition fee aid, scholarships, sibling discounts, and work-study programs, among others.
Tuition Fee Aid/Scholarship
Annually, we provide scholarships to 15% of our students. This is further divided into virtually full scholarships for 5% of our students and partial scholarships for 10%. The scholarship application period for the 2022/2023 academic session is from 12th June to 11th August 2023.
Eligibility
Candidates are eligible for a scholarship if they can demonstrate a high level of academic achievement prior to and during their course of study at PAU, as well as the need for financial assistance.
Scholarship Application Process
Here are the steps to apply for the scholarship:
Click the 

Apply Here

 button to start your application.
Scan and email copies of relevant supporting documents for your application to 

academicprogrammes@pau.edu.ng

. Alternatively, you can mail hard copies to:


The Admissions Office




Scholarship Committee




Pan-Atlantic University




KM 52, Lekki-Epe Expressway




Ibeju-Lekki, Lagos.

The required scholarship documents include:

Letter of Employment (for both parents, if applicable)
Three months' salary slip (for both parents, if applicable)
Three months' bank statements of business account (for both parents, if applicable)
Recommendation letter showing evidence and proof of lack of meaningful income (if unemployed or not in business)
Other documents may be requested if necessary.

Prior to submission, ensure that you meet our scholarship requirements.
Alongside the scholarship application, candidates should also fill out the PAU online undergraduate application form 

here

.
Financial Assistance for Siblings
We offer a unique discount rate for siblings concurrently enrolled at PAU. The discount structure is as follows:
1st Child: Full tuition fee
2nd Child: 10% discount on the full tuition fee
3rd Child: 50% discount on full tuition fee
4th Child: 98% discount on full tuition fee
Work-Study Programme
At PAU, we believe in learning while earning. Our work-study program allows students on scholarships and others who wish, to receive further financial aid by working at various jobs within the university. Students can work for a maximum of 20 hours per week and are paid based on the number of hours worked per month.
Other Options
In addition to need-based scholarships, we offer financing options such as a parent payment plan and the opportunity to pre-pay tuition fees, subject to any increases that the University may implement later.
At PAU, we are committed to fostering your dreams and equipping you with the tools and opportunities to succeed. For more information about our financial aid options, feel free to contact us or visit our campus. Together, let's make your dreams a reality.
I hope you find this article helpful.