How To Pass GRE 2021 With Very High Score
GRE stands for Graduate Record Examination. The GRE is one of the many requirements for Graduate admission in the US, Canada and lots of other developed countries. If you wish to do your masters and PhD abroad, you can take the Graduate Record Examination for 2021.
The overall test comes to around 3 hours and 45 minutes so that's roughly four hours. You will learn about the various sections in GRE and how to pass GRE 2021.
Recommended: PTDF postgraduate scholarship to study abroad
Get Jamb CBT App 2021

» Over 16,000 Jamb Questions Offline
» Competition To Win N30,000
» All Jamb Literature Novels
» Jamb English Novel "The Life Changer"
» Free Video Classes For All Topics


How GRE For 2021 Will Look Like
What is the Nature of GRE? It tests you on three different skills. GRE Questions will come from verbal reasoning skills, quantitative reasoning and analytical writing skills.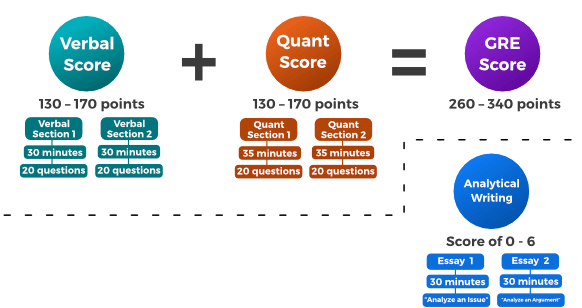 Verbal Reasoning in GRE
Verbal Reasoning tests your ability to analyze and draw conclusions from a passage, understand the relevant points and structure of a text. It also tests your understanding of meanings of words, sentences and relationships among words.
Quantitative Reasoning in GRE
Quantitative Reasoning tests your ability to understand, interpret and analyze quantitative information, solve problems using mathematical models, apply basic skills and elementary concepts of arithmetic, algebra, geometry and data analysis. A calculator will be provided for you to solve Quantitative reasoning questions.
Analytic Writing in GRE
Analytical Writing measures you ability to articulate complex ideas clearly and effectively, support ideas with relevant reasons and examples, examine claims and accompanying evidence, sustain a well-focused, coherent discussion and control the elements of standard written English.
Scores in GRE
Verbal Reasoning score range: 130-170
Quantitative Reasoning score range: 130-170
Analytical Writing score range: 0-6
GRE Total Score: On a 260-340 score scale
How To Score High in GRE 2021
The following guide will help you pass GCRE
Get the recommended books for GRE
Start reading immediately
Make a study timetable and follow it.
If you have someone taking GRE in your area, you guys can practice together.
Understand reading comprehension.
Understand, do not cram.
Always test yourself after studying.
Don't be in a hurry to finish the books, make sure you understand what you have covered.
Make sure you are grounded in the three sections.
Study a whole lot of past questions.
Books For GRE
The recommended materials to study for GRE are Grubber 2015, Barron's GRE, Nova GRE Math Bible, Kaplan and Princeton Review. You can also get books best known for you. I recommend that you study more than one book for GRE.
Recommended: IELTS vs TOEFL to study abroad
Sample GRE Questions
Quantity A
×2+1
Quantity B
2x-1
Quantity A is greater.
Quantity B is greater.
The two quantities are equal.
The relationship cannot be determined from the information given.
Correct Answer: A
2. Each employee of a certain company is in either Department X or Department Y, and there are more than twice as many employees in Department X as in Department Y. The average (arithmetic mean) salary is $25,000 for the employees in Department X and $35,000 for the employees in Department Y. Which of the following amounts could be the average salary for all of the employees of the company?
Indicate all such amounts.
$26,000
$28,000
$29,000
$30,000
$31,000
$32,000
$34,000
Correct Answer: A and B
3. If f, g, and h are positive integers such that f is a factor of g, and g is a factor of h, which of the following statements must be true?
Indicate all such statements.
f

  is a factor of g2

f

  is a factor of 

gh

.

f

  is a factor of h-g
Correct Answer: A, B and C
How to Register GRE 2021
Create an account on ETS website
Select the test centers and GRE exam date
Fill your personal details and verify them
Pay GRE Fee
FREE VIDEO TUTORIALS

SUBJECTS: Learn Maths, English, Chemistry, Physics And Social Science Subjects.



EXAMS: 

Prepare For African Exams, International Exams And Scholarships.


RECOMMENDED
WHAT ELSE DO YOU WANT?
Latest posts by Isaac Inegbenehi
(see all)