Do you want to know how to make egusi soup? At the heart of egusi soup lies the egusi seeds, also known as melon seeds. These seeds are ground into a fine powder, forming the base of the soup and giving it its characteristic thickness and sweet flavor.
It boasts incredible versatility, allowing for a wide array of variations and adaptations to cater to diverse taste buds and regional preferences. Whether it is prepared with chicken, beef, seafood, or a medley of different meats, egusi soup never fails to steal the show. It delivers a satisfying and comforting experience any day, every time.
Meanwhile, Egusi soup is not just a culinary masterpiece; it is also an integral part of cultural celebrations and gatherings, representing the warmth and hospitality of Nigerian communities and some West African countries.  It is one of the most popular soups if not the number one among various tribes in Nigeria. The three main tribes in Nigeria have their name for it. It is known as Miyan Gushi in Hausa, Ofe Egusi in Igbo, and Efo Elegusi in Yoruba.
Whether you prefer to serve it with a plate of steaming rice, fufu, or pounded yam (preferred choice), this nourishing and aromatic soup is a delightful feast for the senses, leaving an indelible impression on all who savor its delicious embrace.
Before we learn how to make egusi soup, let's discover some facts about the soup.
How to Make Egusi Soup: 10 Things You Didn't Know
Egusi seeds used in the soup come from two types of melons: watermelon and Cucumeropsis mannii. 
The ground egusi seeds not only add flavor but also make the soup thick and hearty.
Egusi seeds are full of good nutrients like healthy fats, protein, fiber, vitamins, and minerals.
Different regions have their own unique ways of making egusi soup, leading to various tastes and ingredients.
Egusi soup is often served at important events like weddings and funerals as a symbol of good luck and togetherness.
In the past, people used egusi seeds for medicinal purposes, believing they had health benefits.
Egusi soup has become popular in many African communities around the world.
You can make a vegetarian version of egusi soup by skipping meat and using vegetable broth.
Chefs and food lovers have been creative, using egusi in different dishes like pasta sauces and stews.
Also Read
How to Make Jollof Rice in 7 Simple Steps
How to make Moi Moi (Bean Pudding)
How to make Puff Puff: The Perfect Guide
Nutritional Benefit of Egusi Soup
It's important to note that the nutritional content of egusi soup can vary based on the specific ingredients used in the preparation of egusi soup. Additionally, the nutritional value of the soup can be influenced by portion size and the method of cooking. It healthier to cook egusi using the boiling method.
Below is the typical nutritional components found in a serving of egusi soup:
1. Protein: Egusi soup is a good source of protein, mainly due to the presence of egusi seeds and often supplemented with meat or fish. Protein is essential for building and repairing tissues in the body and plays a vital role in various physiological processes.
2. Healthy Fats: The egusi seeds used in the soup are rich in healthy fats, including monounsaturated and polyunsaturated fats.  These fats play a beneficial role in promoting heart health and may aid in lowering the risk of cardiovascular diseases.
3. Fiber: The soup usually contains various vegetables, which contribute to its fiber content. Fiber is essential for maintaining a healthy digestive system and can help regulate blood sugar levels.
4. Vitamins: Egusi soup can provide essential vitamins, such as vitamin A, vitamin C, vitamin K, and some B-vitamins. Vitamin A is crucial for eye health and the immune system, while vitamin C is an antioxidant that supports the immune system and helps the body absorb iron.
5. Minerals: The soup typically contains various minerals, including iron, magnesium, phosphorus, potassium, and calcium. These minerals are essential for bone health, nerve function, and overall well-being.
6. Antioxidants: The vegetables and spices used in egusi soup contain antioxidants, which can help protect the body's cells from damage caused by free radicals and reduce the risk of chronic diseases.
How to Make Egusi Soup
Ingredients:
3 cups of ground egusi (melon) seeds
600g meat (chicken, beef, or goat), cut into bite-sized pieces (you can also use fish or a combination of meats)
2- pieces of dry fish
1 small-size stockfish (head)
1 medium-sized onion, chopped
2-3 tablespoons palm oil
2 cups chopped leafy vegetables (pumpkin (ugu), or bitter leaf)
2-3 tablespoons ground crayfish
3-4 tablespoons ground dry pepper or scotch bonnet pepper (adjust to your spice preference)
3-4 stock cubes for seasoning
Salt to taste
3-4 cups water
Instructions on How to Make Egusi Soup
1. Prepare the Egusi:
Dry roast the ground egusi seeds in a pan over low to medium heat until it releases its natural oil and starts to clump together. Stir frequently to avoid burning. This process will enhance the flavor of the egusi. Set aside.
2. Cook the Meat:
In a large pot, add the chopped onions, meat (or fish), stock cubes, and enough water to cover the meat. Cook until the meat is tender. If using fish, be careful not to overcook it, as it can easily disintegrate.
3. Add Palm oil and Ground Crayfish:
Once the meat is cooked, add the palm oil to the pot and stir well. Allow it to cook for a few minutes to infuse the flavors. If using ground crayfish, add it at this point as well.
4. Mix in the Ground Egusi:
Gradually add the roasted ground egusi to the pot while stirring continuously to prevent lumps from forming. The mixture will thicken as you add the egusi. Keep stirring for about 5 minutes to cook the egusi properly.
5. Add Water:
Pour in 3-4 cups of water or meat/fish stock to achieve your desired consistency. Egusi soup is usually a thick soup, but you can adjust the water/stock amount based on your preference.
6. Season and Simmer:
Add the ground dry pepper or scotch bonnet pepper to spice up the soup according to your taste. Also, add salt to taste. Stir well and let the soup simmer on low heat for about 10-15 minutes, allowing the flavors to meld together.
7. Add Vegetables:
Add the chopped leafy vegetables (pumpkin (ugu), or bitter leaf). Stir gently and let the soup simmer for an additional 5 minutes until the vegetables are cooked but still vibrant and slightly crunchy.
8. Taste and Adjust the Seasoning:
Taste the soup and adjust the seasoning, adding more salt or spices if needed.
Serving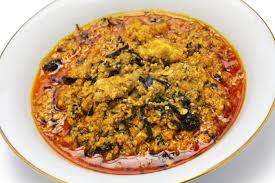 Your egusi soup is now ready! Serve it hot with a side of cooked rice, swallow (such as pounded yam, eba, or amala), or any other preferred starchy accompaniment.