10 Life-Changing Things Students Should Know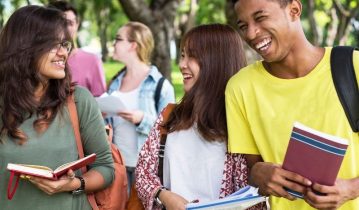 One of the greatest assets that have been given to students evenly is time. What you do with it determines your level of success and fulfillment in life.
Know This: For everything in life, there is a time. A time to gain admission and a time to graduate. Just "like yesterday" you were putting on your Matriculation gown; tomorrow it will be your Convocation gown.
Get Jamb CBT App 2021

» Over 16,000 Jamb Questions Offline
» Competition To Win N30,000
» All Jamb Literature Novels
» Jamb English Novel "The Life Changer"
» Free Video Classes For All Topics


As a matter of fact, The world is amazingly changing at the speed of light. If you would not change at least with the speed of sound, then you will miss so many things in life.
It is what you have in your head before graduation that will take you ahead after graduation. A student that knows nothing is a student that is not noted. You should know the following things before you graduate:
1. Know Who You Are:
Take 5 Seconds to ask yourself, "Am I growing or I am just growing old?" Since you are no longer a kid, before graduation, you should know who you are and who you are not.
Don't wait for people to tell you; because they would give you the wrong identity. You should have values that you stand for.
If you don't stand for anything, you will fall for everything. Don't just do things because others are doing it. You don't have a mate even if you are twin. It is time to embark on the journey of self-discovery.
 2.  Know That You're Unique:
Can you remember the last time someone said to you, "You are different"? It doesn't make sense when you start comparing yourself with others. Fake is very expensive to maintain.
The most amazing thing to be in the world is you. The worst loneliness you can have is for you not to be comfortable with yourself. As a matter of fact, there is no one like you.
Know yourself and be yourself.
 3.  Learn Self Education:
Formal education gives you class and may earn you a living, but self-education makes you a fortune. Your  "A" in class may not help you in the real world, but your skills will. Develop yourself, study to understand things about life.
What have you thought of yourself so far? If what you were taught in class is taken away, would will you be left with? You may want to check out the top skills to learn right here.
 4.  Use Your Third Eye:
Even as you attend classes and prepare for exams, try to project your eyes into the future. If you don't know where you are going in life, you will never get there.
Your eyes are for vision; not only to watch television. The future you didn't prepare for will shock you when you get there.
If you don't know where you  are going in life, you will never get there
 5.  Know That Your Hands Should Work:
Don't graduate empty; learn skills. There are so many skills you can learn. Your worth in life is tied to the quality use of your hands. Where do you produce good results without stress? Your shape may attract people, but your skill is your actual selling point.
See Also: How to overcome the recent unemployment issues
 6.  Know That Hard Work Doesn't Kill:
Hard Work gives you a sense of pride and responsibility. Don't be lazy and expect to be great because even your greatness uses your work as a platform for self-expression.
To get juice, the orange must be subjected to pressure.   Get ready for work! work!! work!!!.
 7. Know About Savings:
For you to harvest, you must first invest. Don't waste your money on irrelevant things. Invest in your future so that it can deliver something to you.
If you spend everything in the present, your future will have nothing to give to you. Invest, so that you can harvest. Remember, it is either you succeed or suck seeds in life.
 8. Know How to Enjoy Life:
It is good to be a very serious student, but learn to enjoy yourself once in a while. Hang out with friends, engage in exercises. Just have fun. In addition, make yourself happy.
 9. Know People And Get Connected:
You need a contact; not contacts. How many of your friends can you call for help if you have issues now? It's time to start connecting with people that are relevant to your destiny.
 10. Don't Waste Your Time:
Life is not a game; in a game there is extra-time but in life there is no extra time. Put your time to maximum use. What is the most valuable use of your time right now?
Read Also: How to customize the picture of your future
FREE VIDEO TUTORIALS

SUBJECTS: Learn Maths, English, Chemistry, Physics And Social Science Subjects.



EXAMS: 

Prepare For African Exams, International Exams And Scholarships.


RECOMMENDED
WHAT ELSE DO YOU WANT?
Latest posts by Isaac Inegbenehi
(see all)