Check If Cloudflare Caching, CDN And SSL Are Working On Your Blog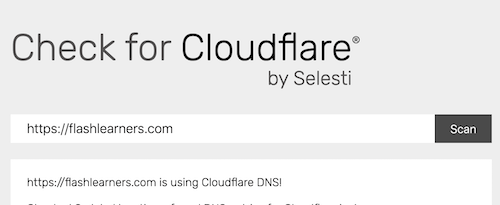 Cloudflare is very important for both old bloggers and anyone who wish to start blogging this year 2020. Cloudflare Saves Cost by offering CDN, Caching, Minify, Security and SSL for free. For example, Cloudflare helped me save 74 GB in January 2020.
Don't have Cloudflare account yet? Don't worry. I have already explained how to set up Cloudflare on your blog from A to Z. With my Cloudflare tutorial, you can set up Cloudflare all by yourself. After Cloudflare Setup, a question comes to mind. How do I know if Cloudflare is working?
Get Jamb CBT App 2021

» Over 16,000 Jamb Questions Offline
» Competition To Win N30,000
» All Jamb Literature Novels
» Jamb English Novel "The Life Changer"
» Free Video Classes For All Topics


In this guide, I will teach you how to check if the various features or functionalities of Cloudflare are properly working on your blog. Are you ready? Take a glass of chilled water and move on.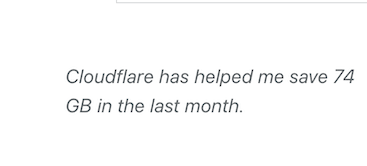 How to Know If Cloudflare CDN is Working

visit webpagetest.org
Enter your Blog URL
Click on Start Test
Fill the Recapta if necessary
Search for Effective use of CDN in the result page
If it is marked good, then Cloudflare CDN is working
Further confirm by clicking on Effective use of CDN
Scroll down to Use a CDN for all static assets
Confirm if your blog loads over Cloudflare
Alternatively, visit kforcloudflare.selesti.com and enter your website URL. It will confirm whether you are using Cloudflare CDN or not.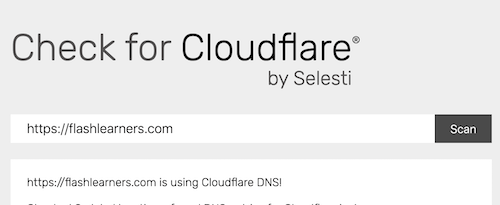 How to Know if Cloudflare SSL Is Working
Visit your blog or website
Check if it is showing a padlock
Click on the padlock
It will show that your connection is secure
Click on Certificate (valid)
It will display your certificate information
Confirm If the Certificate shows Cloudflare SSL
Done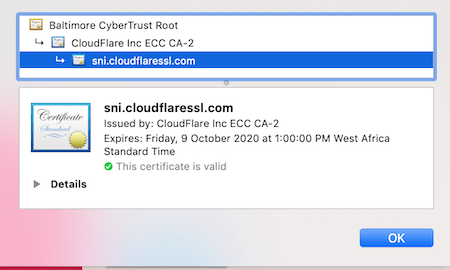 Alternatively, visit kforcloudflare.selesti.com and enter your website URL. It will confirm whether you are using Cloudflare SSL or not.
How to Know If Cloudflare Is Caching Your Blog
If CF-Cache-Status shows HIT, then it shows that Cloudflare is caching your blog. If CF Cache Status MISS, Expired, Dynamic or Bypass, it means the page wasn't served from Cloudflare cache but from your server. What does HIT and MISS mean in cloudflare? Hope you understand now?
Alternatively, you can check if Cloudflare is caching your blog by using Google Chrome's developer tool. You can see this under the network tab. Finally, you can also test on redbot.org
Is it good to use Cloudflare on my blog? Yes, the use of Cloudflare on your blog is very good and recommended. With the cheap plan, you are good to go.
Hope you found this guide helpful? Feel free to let me know how you feel using the comment box and don't fail to share this with your blogger friends.
Recommended: How to setup Cloudflare
FREE VIDEO TUTORIALS

SUBJECTS: Learn Maths, English, Chemistry, Physics And Social Science Subjects.



EXAMS: 

Prepare For African Exams, International Exams And Scholarships.


RECOMMENDED
WHAT ELSE DO YOU WANT?
Latest posts by Isaac Inegbenehi
(see all)